Letters from Seminary: Burmester
When I knock, Jesus always answers the door
Published: July 18, 2015
By William Burmester
Diocesan Seminarian
"… knock and the door will be opened to you" (Matthew 7:7)
Knock. Knock. Knock. That sound of knocking, many times, is the beginning of my ministry as a chaplain at Baptist Health Medical Center in Little Rock. This summer I have two floors where I meet new patients and revisit patients with longer stays in the hospital.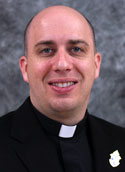 As I stand outside the door of a new patient's room, I am struck with the reality that I have no control of the situation or people I will encounter. Some patients have just received news of their imminent death, others are feeling good for the first time in years, and yet other times there is no patient at all, just family waiting for their loved one.
During my time under chaplaincy supervision, I have learned a lot about my insecurities, gifts and abilities. I have also learned the skill of listening to the patient and helping them understand their experience and emotions while in the chaotic environment of a hospital.
I have been humbled to have the time to hear the stories of people. They let me into their lives for a moment and are willing to share their emotions and stories with me, emotions and stories which range from heartbreakingly tragic to joyful.
Each room is different and unique. There are some with a room full of support and others that have had no visitors; some who enjoy telling me stories and others who allow me to sit with them in silence. More times than not, I am with people during their worst days.
Then when I have become comfortable visiting a patient, they leave and a new patient has taken their place. Outside the same door I knock again to enter into a new patient's room. During my weeks at the hospital, I have fallen in love with ministering on my two floors.
I look forward to my hospital visits. While it is emotionally exhausting I am beginning to recognize Christ in the suffering of those patients. I pray that I am Christ to them, but I have been blessed to experience Christ in my patients.
I have also come to see the ministry of the nurses and doctors as Christ at work in the world. They are exhausted, busy and stressed and yet they still care deeply for those who suffer. They still love. The experience of being a chaplain has helped me see God's presence and guidance in ministry.
In the same way I knock on the door of a patient's room to minister to them, I have sensed Jesus knocking at the door of my life, wanting to minister to me. He knocks when a family is grieving over the death of their loved one.
He knocks in the smile of a visitor. He knocks when a patient asks me to pray with them. He continually is present to me, waiting to enter my life. And when I invite him in, he generously provides me with the comfort, peace and courage only he can provide.
William Burmester, a member of St. Joseph Church in Conway, is a diocesan seminarian, attending St. Meinrad Seminary in Indiana. This article was originally published in Arkansas Catholic. Copyright Diocese of Little Rock. All rights reserved. This article may be copied or redistributed with acknowledgement and permission of the publisher.