Letters from Seminary: Burmester
New perspectives sought by venturing off 'The Holy Hill'
Published: April 16, 2016
By William Burmester
Diocesan Seminarian
"But (Jesus) would withdraw to deserted places to pray" (Luke 5:16)
Perspective matters. Recently, I was attending the diaconate ordination of three of my classmates. On this important day for my friends, I began thinking about how life at the seminary has changed me and the many ways I have grown.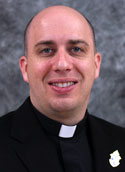 In a seminary schedule that is full of meetings, papers and responsibilities, this time spent at the ordination affirmed in me that a life of service is where I am being called. Where I am living gives me perspective.
One of the reasons I enjoy going to seminary at St. Meinrad is its seclusion in nature. The seminary building rests atop a hill and wherever you look you have an extended view of woods, fields and lakes. This is the reason it is intimately coined "The Holy Hill."
It is a beautiful place and a blessing when you get restless being indoors all day. In fact, you can go weeks living at our seminary without stepping foot outside. That is why I found that the best tip I received during my first year was to get off "The Hill" at least once a week so that I can come back refreshed.
I believe this one piece of advice has been most beneficial in following God's call to the priesthood. It has helped me because it reminds me of the importance of perspective. Stepping out of the busyness or "hum-drumness" of the seminary routine gives me the perspective I need to enter back into formation with more energy and intentionality.
Whether this is a walk in nature, a dinner with friends or visiting churches in the area, it helps me appreciate the gift of being in this place learning to love God more each day. The problem arises when I am busy and do not take the time to get away in order to relax and re-energize.
Without a break, I am more easily frustrated, depressed and irritable. When I am stressed, a break gives me peace and happiness in order to do my work well. Daily prayer is the break I need to gain perspective spiritually.
The time I take to pray is a needed time of rest with God. On a good day, prayer helps me see God at work in my life and gives me energy. On a bad one, in the midst of all of my responsibilities, prayer seems like a chore that halts my productivity.
When I see prayer as an interruption in my life, I easily make excuses not to pray. But when I see prayer as a relationship with God, it becomes life-giving and I want to give it my time and attention.
Ordinations and living in the seminary have been a blessing to me, but I am excited to gain new perspectives from the people and places God is calling me to serve as a priest.
William Burmester, a member of St. Joseph Church in Conway, is a diocesan seminarian attending St. Meinrad Seminary in Indiana. He is scheduled to be ordained a transitional deacon June 2. This article was originally published in Arkansas Catholic. Copyright Diocese of Little Rock. All rights reserved. This article may be copied or redistributed with acknowledgement and permission of the publisher.