Letters from Seminary: Burmester
The 'grace of ignorance' can lead you closer to God
Published: April 22, 2017
By Deacon William Burmester
Diocesan Seminarian
"You duped me, O Lord, and I let myself be duped." (Jeremiah 20:7)
The grace of ignorance. This is a term I use when something was more difficult than expected, but I was ignorant of the difficulties when I began.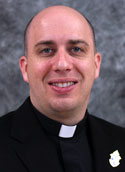 Mission trips, my campus ministry job and seminary are examples when the grace of ignorance have led me closer to God. This grace finds its foundation in a supernatural trust in God.
During these moments, I do not stress about the future as I usually am accustomed to do. I do not know if there is any theological explanation of this grace, but I believe the grace of ignorance has been an active part of my life.
When I was in college, I told my parents that I was going to spend three weeks in Honduras on a mission trip. I informed a group in Honduras that I was going to visit and I bought the plane ticket. I was excited about the trip but then my parents asked me who was going to pick me up at the airport. "I don't know, but I told them I was coming," I said.
They were very concerned since I was traveling to a place where I would not have cell phone service and could not contact anyone. This usually would concern me too, but I felt a deep trust that all would work out well. I arrived in Honduras and easily found my ride to the mission site. It was a great summer experience with many challenges and laughs.
After this experience, I accepted a job at campus ministry while I was a student. I did not foresee how difficult it would be to work in the same place I hung out between classes and went to Mass on the weekends. When the Catholic campus ministry house needed to be cleaned there would always be someone to say, "I am not going to help you; you get paid for this."
Being a paid employee in the midst of my friends and acquaintances was a difficulty that I did not predict, but my experience in campus ministry helped me to prayerfully decide to go to the seminary.
Seminary ha s been one of the most difficult and yet rewarding things I have ever done. I am sure if I had known all that I would experience in seminary formation before I started I would not have started. I completed all the tests, papers, meetings, evaluations and lectures because I was able to experience them one at a time. I have been busy and stressed but I have felt, with great joy, God calling me to be his priest.
Finally, this Letters from Seminary column began with the grace of ignorance. The process of writing a column can be difficult, especially when the audience is the Diocese of Little Rock. I am glad that I accepted this opportunity without fully knowing the difficulties because this column has made an impact on the type of priest I will be.
Each moment where I have experienced the grace of ignorance has been a time I have grown more in love with God. What I consider the grace of ignorance is actually just the courage God gives me to start something new without knowing all the factors that this new experience will entail.
Each of these experiences had their difficulties but I have never experienced so much joy and peace.
Deacon William Burmester, a member of St. Joseph Church in Conway, is a diocesan seminarian attending St. Meinrad Seminary in Indiana. He is scheduled to be ordained a priest on May 27, 2017. This article was originally published in Arkansas Catholic. Copyright Diocese of Little Rock. All rights reserved. This article may be copied or redistributed with acknowledgement and permission of the publisher.