Letters from Seminary: Burmester
As an 'intentional pilgrim,' Europe trip more meaningful
Published: January 28, 2017
By Deacon William Burmester
Diocesan Seminarian
"My travels and my rest you mark: with all my ways you are familiar." (Psalm 139:3)
Currently, the deacon class from St. Meinrad Seminary is in Rome. We have traveled to London, Paris and Rome, spending a week in each city. Twenty-three transitional deacons in Europe for a month.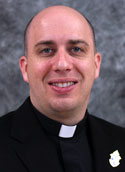 It may sound like a vacation of sightseeing and delicious dining (we have done an abundance of both), but this trip, I have learned, is much more than that. This trip has been a heritage tour.
We have seen the sites of martyrs, prayed in the presence of apostles' tombs and visited holy churches where many holy men and women worshipped.
This trip has been a way to come into contact with our rich Catholic heritage. These weeks have been a time to pay homage to deceased family members of the faith. This family of faith we are part of has deep roots and it has been humbling to learn and experience this "family history."
This trip has also been a pilgrimage. When we began our trip, we were given the cards containing the intentions of seminarians and staff of the seminary community.
We were asked to pray for these intentions during our monthlong pilgrimage through Europe. In addition to these intentions, I have been praying for family, friends, parishioners of previous assignments and the Diocese of Little Rock. When my feet got sore, when I was tired of touring another museum, when I felt under the weather, these became times to pray for those in need.
At each beautiful church, relic and holy site I was able to lift my intentions to God with the help of the intercessions of the saints. Being an intentional pilgrim has made this trip a profound spiritual experience for me. This trip has also been the start of my goodbye to seminary. The past three weeks, we have lived in close quarters, sharing rooms and bathrooms.
Over this time, the exhaustion and frustration of traveling has shown itself on a few occasions. However, I have enjoyed getting to know my classmates better. We have one more semester together, just a few more weeks of classes, so this trip represents the beginning of the end, the beginning of our transition from seminary to priesthood.
This means I will experience a lot of "last things" this final semester. I return to seminary as a seminarian for the last time. I will eventually take my last test, write my last paper and finish my last assignment. In April I will write my last "Letters from Seminary" column. Although these "last things" will be sad, I am excited about the new experiences in store for me after seminary.
Deacon William Burmester, a member of St. Joseph Church in Conway, is a diocesan seminarian attending St. Meinrad Seminary in Indiana. He is scheduled to be ordained a priest on May 27. This article was originally published in Arkansas Catholic. Copyright Diocese of Little Rock. All rights reserved. This article may be copied or redistributed with acknowledgement and permission of the publisher.