Letters from Seminary: Burmester
In the silence of prayer, why can't I stay awake sometimes?
Published: November 23, 2013
By William Burmester
Diocesan Seminarian
"Rather, I have stilled my soul, hushed it like a weaned child. Like a weaned child on its mother's lap so is my soul within me." (Psalm 131:2)
Silence. I do not find it a coincidence that God prefers to speak to us in the silence. As effective as silence is for the growth of vegetation in nature it is equally important for our growth in the spiritual life. This fact I have known for a long time, but it doesn't remedy the frustration I have when I sit and pray in silence.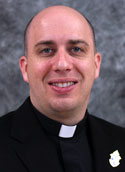 To sit in silence is in contrast to my personality. I enjoy talking to others and getting things accomplished. I love to be in a state of "doing." My prayer time usually consists of me talking to God, asking him questions, petitioning for his help or being distracted with worries and random thoughts.
Prayer is a struggle for me. I find the transition from the busyness of the day to a tranquil time of prayer to be difficult. I find a stark difference between the busyness of the day, which is noisy, productive and scheduled, and my prayer time, which is an unpredictable conversation with God in silence.
There is a lot of randomness that occurs in times of prayer, and if I allow God to be in charge of my prayer time there are endless possibilities for topics and emotions. The best description that I have heard about prayer is that it is "wasting time with God." Many days, though, I do not feel like I have enough time to "waste" with God.
Once I get to prayer, typically at the end of a long day, I tend to relax myself and begin to reflect on God's presence in my life. When I quiet my mind and try to listen to what he is trying to say to me I often fall asleep for most of my prayer time. This frustrates me because I am going into prayer in order to have a deep and profound moment with God, and I end up sleeping through most of it. Even though I am frustrated with myself for falling asleep I do notice that I am more peaceful and rested. I take that feeling into the next day of busyness and allow my time of prayer to be an oasis of silence.
I began seeing my time of silence as an oasis because of the wisdom of my spiritual director. I shared with him my frustration of falling asleep each time I tried to pray. My reasoning for the frustration was that I am in the presence of God and I can't stay awake, but I would stay awake for someone famous who wanted to talk with me.
My spiritual director told me that he thought it was beautiful how I slept through prayer, and it demonstrated my trust and intimacy with God. I couldn't wrap my mind around how sleeping was a demonstration of intimacy so I demanded an explanation. He then asked me to reflect on the relationship of a dad and his son. The son crawls into the lap of his father right before bed time and begins to talk to his dad. His dad listens and slowly the son begins to fall asleep. The dad is not upset with the son.
He does not think that he has missed out on conversation with his son, but he sees this as an intimate moment with his son and a moment that will give him great joy as a beautiful memory. I am beginning to see that God loves me for who I am and not what I can do. He loves the times that I crawl into his lap, say what is on my mind, attempt to listen to him and fall asleep in the comfort of his love.
William Burmester, a member of St. Joseph Church in Conway, is a diocesan seminarian, attending St. Meinrad Seminary in Indiana. This article was originally published in Arkansas Catholic. Copyright Diocese of Little Rock. All rights reserved. This article may be copied or redistributed with acknowledgement and permission of the publisher.