Letters from Seminary: Burmester
Jesus is who called me to discern vocation, not a priest
Published: October 18, 2014
By William Burmester
Diocesan Seminarian
"Why are you downcast, my soul? Why do you groan within me? Wait for God, for I shall again praise him, my savior and my God." (Psalm 43:5)
In the wake of James Melnick's suspension from ministry, I have learned and reflected on the effect that the life of a priest has on the people of God. Personally, his actions have shocked me, and I have had to reflect on the deep impact he made in my life.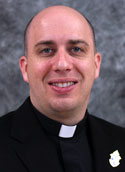 Through his ministry at the University of Central Arkansas, I became inspired to begin the application process for the seminary. The reason for his suspension does not match up with the priest who had come to be a role model for me.
However, when I acknowledge the wrong he has done, I am faced with the scandal that is at hand. He was a beloved priest and in his priesthood he evangelized, inspired and taught many about the faith.
In secret, he is responsible for acts that are antithetical to the priesthood. These actions have left his victims wounded in a way that is uniquely deep because of his position as the caretaker of their souls.
For the past few weeks, then, I have been praying for him, and I find myself returning to the reality that there is ambivalence in the relationship between him as my role model and the reality that he is suspended from ministry for his actions.
In this time and through prayer, I am reminded that it is Christ who lovingly called me to discern the priesthood in seminary, not James Melnick. My vocation is not made vulnerable by his actions.
Even now, many feelings and thoughts come to mind as I reflect on these events and my heart goes out to all involved: the victims, the parishes in which he ministered and the entire flock that is the Diocese of Little Rock.
In this sense, what has affected me deeply has also had a wide effect on many people. "Be still, my soul: Th e waves and winds still know his voice who ruled them while he dwelt below."
This line in the hymn "Be Still My Soul" struck me during Mass last week because of its simplicity and power. For me, there is power in knowing that Jesus' voice continues to calm the storms of life that seem to inundate us daily.
Whether it be in the news of violence in the world, impending war, an ever-nearing medical epidemic, the sick and dying we know personally or the faults of our friends that leave us scandalized, Jesus' voice is amid the storms we face and we learn from him by reflecting on his life through Scripture and receiving him in the sacraments.
All of these problems seem too much for me, but while I sing this song I implore God to help me be courageous in the face of fear and a light in the midst of great darkness.
My soul is not still, in fact it is quite restless, but I know through talking with my friends, receiving the sacraments and prayerful reflection on my thoughts and emotions that God is present, consoling me through his love and mercy.
"Be still, my soul: The Lord is on thy side; With patience bear thy cross of grief or pain." Through Jesus' suffering and death we have been redeemed. I am trying to patiently bear my cross of grief and pain, while at the same time praying for those who I know are bearing a heavier cross than me.
William Burmester, a member of St. Joseph Church in Conway, is a diocesan seminarian, attending St. Meinrad Seminary in Indiana. This article was originally published in Arkansas Catholic. Copyright Diocese of Little Rock. All rights reserved. This article may be copied or redistributed with acknowledgement and permission of the publisher.