Letters from Seminary: Burmester
Reflection must include struggles, areas to improve
Published: January 23, 2016
By William Burmester
Diocesan Seminarian
"Speak, Lord, for your servant is listening." (1 Samuel 3:9b)
We are in the midst of self-evaluation season at the seminary. At this time each year, each seminarian at St. Meinrad writes a narrative of his previous year as a seminarian.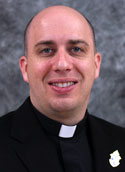 Certain areas of life are asked to be mentioned such as prayer life, ministry work, understanding of obedience, growth in personality and our life of celibacy. This process provides the priests and others on the seminary team (formation staff) a perspective of how we see ourselves.
Throughout the year, formation staff has weekly meetings about seminarians to talk about our strengths, weaknesses and struggles, but the self-evaluation process helps give the staff an intimate, inside view of the thoughts and feelings of the seminarian.
Writing a self-evaluation is also helpful for the seminarian. It is kind of like a mandatory New Year's resolution. For me, it is a time to reflect deeply on my growth over the last year. It also gives me the time to note areas of needed growth (areas of conversion) which develops into a plan of action for the year to come.
The process of writing is difficult for me not just because it takes time, but because I am called to be truthful. I am called to write the truth about myself: the good and the bad, the gifts and the struggles, the virtues and the vices of my life.
Each year, in the difficulty of writing my evaluation, I find a renewed dedication to God and his call in my life to become a priest for the Diocese of Little Rock. Although I don't feel it at the time, writing my evaluation is a blessing because it is intentional time to reflect on who I am in relationship with God.
But the more I reflect on this renewed vigor and blessing of the evaluation the more I am understanding that personal, silent prayer becomes a daily self-evaluation of seeing my growth and failings as I try to grow more in love with God and his Church.
Daily prayer will foster and strengthen my commitment to follow God throughout my lifetime. My times of being with God daily will draw me to follow God where he is calling me to go, to be with those who he is calling me to serve and to love those I am serving in the way he has loved me … fully, unconditionally, and faithfully.
William Burmester, a member of St. Joseph Church in Conway, is a diocesan seminarian attending St. Meinrad Seminary in Indiana. He is scheduled to be ordained a transitional deacon June 2. This article was originally published in Arkansas Catholic. Copyright Diocese of Little Rock. All rights reserved. This article may be copied or redistributed with acknowledgement and permission of the publisher.