Letters from Seminary: Burmester
Encounter God in the Year of Mercy by going to confession
Published: October 17, 2015
By William Burmester
Diocesan Seminarian
"But God, who is rich in mercy, because of the great love he had for us, even when we were dead in our transgressions, brought us to life with Christ." (Ephesians 2:4-5)
The parking lot tells a lot about the pulse of a place. I can tell you which restaurants are popular in a town only by looking at parking lots. In a similar way, one can tell the spiritual pulse of a parish by looking at the life of the community.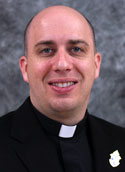 Recently, our rector said that one can tell the spiritual life of a parish by simply looking at the amount of people waiting for confession on a normal basis. The confessional line represents the spiritual life of a parish.
A parish that frequently comes face to face with the mercy and forgiveness of Jesus in the confessional is one that enters the other sacraments knowing the love of God. I would say that the confessional line is where I heard the call to be a priest.
There is something about being able to acknowledge your sinfulness and receive the freedom from those sins through Christ by way of the humanly simple words and actions of a priest. The priests who have listened to my confessions throughout my lifetime have taught me that even in my sinfulness I am still a beloved son of God.
It was a revolutionizing thought. That God loved me with the same faithfulness and passion before my sins were wiped clean as after receiving his forgiveness in confession. After that realization, going to reconciliation became an act of loving God.
I no longer went to confession to try to get to a place where he could love me, but I went to confession in order to love him more fully. When I began feeling his love grow internally, I was inspired to share that love with others. I began going to adoration, attending daily Mass and helping at campus ministry.
Preparing to go to reconciliation became a time to reflect on how I had begun isolating myself from others and from God. It is amazing to me how easy it is to become blind to God's love in my life. It is a daily struggle of intentionally seeking God. I still need jumpstarts to my spiritual life. I find the energy to love God and others by going to confession and praying a daily "examen."
Confession and daily examinations help me to see the pulse of my life. It helps me see how I have grown intellectually, pastorally, personally and spiritually. It also shows me areas where I need to rely on God for conversion.
Starting in December, the Year of Mercy will begin. A year of checking the pulse of the Church. I pray that we are able to encounter God's mercy in a deeper way and find ways to share that mercy with others. Because the good Lord knows his mercy is the only reason I am able to follow his call to become a priest.
William Burmester, a member of St. Joseph Church in Conway, is a diocesan seminarian attending St. Meinrad Seminary in Indiana. He is scheduled to be ordained a transitional deacon June 2, 2016. This article was originally published in Arkansas Catholic. Copyright Diocese of Little Rock. All rights reserved. This article may be copied or redistributed with acknowledgement and permission of the publisher.