Letters from Seminary: Burmester
Acceptance of God's love is key to peace
Published: August 18, 2012
By William Burmester
Diocesan Seminarian
"I will be a Father to you, and you shall be my sons and daughters, says the Lord." (2 Corinthians 6:18)
This summer I was blessed to go to a 10-week program called the Institute of Priestly Formation. IPF is a program that is rooted in helping diocesan seminarians fall more in love with Christ, equipping them with tools to stay in love with Christ and preparing them to share this love with future parishioners.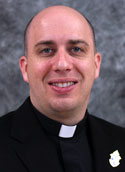 The topics that we learned in class ranged from Ignatian spirituality to celibacy formation. It was a great opportunity to meet seminarians from around the country and to spend time learning about prayer and God's presence with me in my discernment.
It has allowed me to find confidence in my discernment and to rely on my relationship with God as my source of joy rather than on my own achievements. An overarching theme of my summer was that I am a beloved son of God. During the second week of our program we went on an eight-day silent retreat and this identity of being God's son came up many times.
This is a concept that I knew in my head, but during the retreat I felt it in my heart. This simple movement of feeling God's fatherly love has changed the way I pray and how I live out my relationship with him throughout the day.
It is hard for me to live as God's son most days because this demands complete dependence on God. I am a type of person that prefers control of situations especially when life gets stressful. During these stressful times in my life I tend to rely on my own power and skills to get me through the day. This leads to frustration, burnouts and negative feelings toward God for not helping me.
All the while, God is loving me and waiting on me to trust him and to give him permission to be with me.
He not only wants to be with me in prayer, but he wants to work with me in the daily struggles of life.
Even though the understanding that I am God's son has changed the way in that I relate to him, I constantly struggle with remembering this throughout the day.
In one of our classes in which we learned about the identities of the priest, one of the bullet points on a slideshow said "God loves you." The teacher pointed out how bizarre it is that this needs to be realized every day in our prayer life. God loving us is something we learn in Sunday school and here it is on a slideshow for a graduate-level class.
If we place ourselves in the love God has for us then we sense God's invitation to be with him in prayer and we can rely on this love throughout the day.
I have made it my priority each day to realize God's love for me during even the most mundane activities. Feeling this love in the sacraments allows me the ability to trust that I am a beloved son and that he is well pleased in me. It is a love that is not based on what I can do or have done, but because of who I am.
William Burmester, a member of St. Joseph Church in Conway, is a diocesan seminarian, attending St. Meinrad Seminary in Indiana. This article was originally published in Arkansas Catholic. Copyright Diocese of Little Rock. All rights reserved. This article may be copied or redistributed with acknowledgement and permission of the publisher.