Letters from Seminary: Burmester
I procrastinate? Seeing my weaknesses as moments of grace
Published: February 16, 2013
By William Burmester
Diocesan Seminarian
"Three times I begged the Lord about this, that it might leave me, but he said to me, 'My grace is sufficient for you, for power is made perfect in weakness.' I will rather boast most gladly of my weaknesses, in order that the power of Christ may dwell with me." (2 Corinthians 12: 8-9)
I must confess that I am a perfectionist stuck in a procrastinator's body. Allow me to briefly describe my predicament. When I finally start a project, I want to do it perfectly, but since I procrastinated I don't have the time to. I complete the project, but I feel guilty knowing that I could have done a better job. This guilt becomes stress which is relieved by my habitual use of Facebook, playing sports, talking with my friends or reading a book not assigned to me by a professor. The procrastination then continues indefinitely.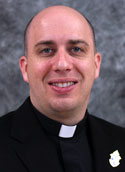 A few weeks ago I enjoyed lunch with friends from college and from seminary. I learned a lot about how my friends perceive me because my life was a comfortable common ground for conversation. "He always finds a way to procrastinate," said my seminarian friend which I quickly rebutted, "Yeah, all that is going to change this semester."
However my longtime friend challenged me, "William, that is what you have said every semester since freshman year of college." I was reminded that instant of all my failed resolutions to become a better student. The attempt to overcome this same challenge has been a struggle since high school. It is a history of multiple attempts and swift failures.
The perfectionist in me always attempts to get rid of my procrastinating habit; however, I tend to procrastinate doing something about it. There are two possible mindsets to choose from at this point. First, I can have a self-deprecating mentality about how I continually fail to accomplish my goals and how I have been powerless to change anything.
Instantly this mindset turns me inward. Thankfully, I have a second mindset that is rooted in Christ. The first thing I do is become aware of my weakness, but immediately I concentrate on God's power and grace. This is a loving movement away from me toward God. Then I am in communication with God about my weakness rather than in a monologue. This second mindset is easily forgotten but infinitely freeing.
This past week I practiced the second mindset when it came to my procrastinating. In prayer, I had a brutally honest conversation with God. I was able to explain my weakness and the feelings that are attached with my failures. I also was able to express my desire to change. After emptying my heart to God, I was able to listen to him. I could feel his compassion and love. Then surprisingly I began to see my perceived failures of falling into procrastinations as moments of grace to either deepen my relationships with my friends or find the joy of life in a well-written and interesting book.
Then I became deeply aware that at those moments that I considered failures of my imperfect character are actually encounters with God. I still want to get to a point at which I am not procrastinating, but I have a deeper respect for my weakness as a source of grace. Becoming more mature as a Christian is not so much finding sinful things to fix in my life but deepening my relationship with God so that I am drawn to a more virtuous life while understanding that my weaknesses are actually sources where I am able to see God's grace at work in my life.
William Burmester, a member of St. Joseph Church in Conway, is a diocesan seminarian, attending St. Meinrad Seminary in Indiana. This article was originally published in Arkansas Catholic. Copyright Diocese of Little Rock. All rights reserved. This article may be copied or redistributed with acknowledgement and permission of the publisher.