Office of Divine Worship
The Office of Divine Worship has as its mission the task of assisting the bishop, whose charge it is to safeguard and promote the liturgical life of the diocese. It is also the mission of this office to foster the relationship of the liturgical life of the parishes by working closely with the priests, deacons and lay faithful of the diocese as a resource of information. To learn more, visit the U.S. Conference of Catholic Bishops' Committee on Divine Worship or Contact Us.
---
Resources
Guidelines for Sunday Celebrations in the Absence of a Priest
For Sundays and holy days of obligation a Word and Communion Service led by a deacon or lay leaders may be scheduled after consulting with the bishop or vicar general when the assigned priest is prevented from presiding at Mass and no substitute priest is available.
General Instruction of Roman Missal
The General Instruction of Roman Missal (GIRM) provides instruction for how to celebrate the Mass. This includes the prayers, music, gestures, periods of silence, movement, liturgical colors of vestments and more.
Norms for the Distribution and Reception of Holy Communion
This explains how the Eucharist is to be distributed, who can receive it and how under both kinds (Body and Blood).
This directory lists regular Mass times, including daily and weekend Masses at parishes statewide in English, Spanish, Latin and Vietnamese. It does not list Mass times for special holy days because those vary from holy day to holy day throughout the year.
---
Contact Us
Contact a member of our staff by calling (501) 225-6774, or send an e-mail by clicking on the button under a staff member's name. The Office of Divine Worship is located at Christ the King Church in Little Rock.
Father Juan Guido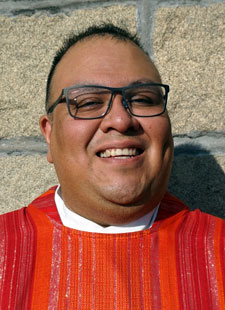 Director
Office of Divine Worship
Phone: (501) 225-6774

Office of Divine Worship
4000 N. Rodney Parham Rd.
Little Rock AR 72212