Letters from Seminary: Burmester
Is it possible to replace online addiction with Jesus Crush?
Published: January 18, 2014
By William Burmester
Diocesan Seminarian
"Persevere in running the race that lies before us while keeping our eyes fixed on Jesus, the leader and perfecter of faith." (Hebrews 12: 1a-2a)
There is a special feeling I get when I return to St. Meinrad after a long break. I enjoy my time with family and friends in Arkansas, but the first month back at the seminary can seem like an extended retreat. Returning to St. Meinrad means that I am leaving the busyness of life in a populated city and settling into living in the peace of separation. St. Meinrad is a seminary located in a small town surrounded by many acres of countryside.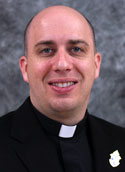 This physical separation has been a blessing for me because I am able to spend my time concentrating on my discernment. I feel that this separation from the busyness of the world is a necessary quality of my formation because I tend to be one that can get distracted easily. The calm and peace felt at the beginning of a new semester allows me time to reflect on how fortunate I am to be in the seminary and to the have the support of so many in the diocese.
The many hours of free time I have when I return from break affords me the opportunity to reflect, exercise, pray, read and rest. I do not take this free time for granted because later on in the semester I know I will not have it. Much of my time is spent around others, but I also appreciate downtime by myself.
Although St. Meinrad is a place I feel at peace, it is sometimes difficult to focus on prayer and relaxation. The ways I relax sometimes interrupt the rhythm in my life. I allow myself to play more than work or pray. Candy Crush is a new online game that has disrupted this rhythm. It is a simple game that has multiple levels of boards filled with different colored pieces; each level contains an objective to be completed. With a horizontal or vertical swipe of the finger you swap the positions of two adjacent candies, to create at least a set of three pieces of the same color. It is so repetitive that the colors and movement can get stuck in your head easily.
A few nights ago, I was praying evening prayer with the seminarian community, I closed my eyes for a few seconds and I found myself playing this game in my head. I could see possible moves to get three colored pieces in a row. I opened my eyes and I concentrated on praying.
Over the next few days I noticed that when I closed my eyes, whether to reflect or go to sleep, my mind would be playing this game. Eventually, I was able to think about other things, but I had played often enough that this game was the first thing to come to mind when I closed my eyes. I was amazed that the game that was played hours before reappeared when I least expected it.
These incidents demonstrated to me that what my eyes take in have lasting effects no matter how mundane. We are affected by the stimuli around us and in this modern world we are surrounded by a lot of it. At Mass, I was closing my eyes at the consecration and my mind went straight to matching colored pieces. This frustrated me. At a time that I hold sacred, I was unable to concentrate because of a game.
Then I began to turn my gaze to Jesus. I began to think about the possibility of loving Jesus so much that he was on my mind each time I closed my eyes. What if he was on my mind each time I was deciding how to act, each moment of my life? I know this is possible, but I must start fixing my gaze on Jesus more often and persevere in prayer so that I can grow more in love with him. But don't get me wrong, I still love Candy Crush.
William Burmester, a member of St. Joseph Church in Conway, is a diocesan seminarian, attending St. Meinrad Seminary in Indiana. This article was originally published in Arkansas Catholic. Copyright Diocese of Little Rock. All rights reserved. This article may be copied or redistributed with acknowledgement and permission of the publisher.