Letters from Seminary: Burmester
Translate God's love and then communicate it
Published: July 19, 2014
By William Burmester
Diocesan Seminarian
"My grace is sufficient for you, for power is made perfect in weakness." (2 Corinthians 12:9)
They call me "Closed Caption." At least this is the nickname some of the seminarians gave me here in Antingua, Guatemala. I am here for 10 weeks studying Spanish in order to become more fluent in the language. I traveled down to Guatemala with five other seminarians, and since I majored in Spanish in college they relied on my translations for the first few weeks.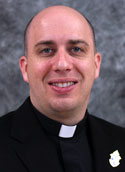 Someone would begin to speak to the group in Spanish and those who did not understand would turn to me for my best attempt at a translation. Then I would listen to the discussion between the seminarians for a while and translate the general idea back into Spanish. It was difficult and I made plenty of mistakes, but the general idea of the discussion was understood by both sides. I feel this is the way daily life and prayers relate with each other.
In prayer, I communicate to God what has happened throughout the day and he gives me a message to convey to those I come into contact with in my daily life. My sins hinder me from transmitting the complete and infinite love God has for each person I see throughout the day.
However, when I allow myself to receive God's love in prayer, his grace makes my mistakes perfect for his plan. The problem occurs when I begin to focus on my weaknesses more than his grace. There is a song I enjoy listening to by Otis Taylor called "Nasty Letter" that I think is a good analogy for describing the effects of weakness and sin in my life.
In the first few lines of this blues song, he mentions that he received an offensive letter that was not signed. He goes on to sing that he knows who wrote it by the handwriting. I find this song to be profound because the nasty letter relates to my moods of self-criticism and deprecation that make me negative and pessimistic.
Through it all, God is constantly loving me and if I listen closely enough, in the silence, I can begin to see how loved I actually am. As the song states, I am able to recognize, in prayer and through friendships, the handwriting of negativity in my life. In the midst of God's love, I become confident that his presence will reach the hearts of others as I am giving my best attempt of translating his love to them.
William Burmester, a member of St. Joseph Church in Conway, is a diocesan seminarian, attending St. Meinrad Seminary in Indiana. This article was originally published in Arkansas Catholic. Copyright Diocese of Little Rock. All rights reserved. This article may be copied or redistributed with acknowledgement and permission of the publisher.