Letters from Seminary: Burmester
Spending Lenten season desiring eternal life with Jesus
Published: April 19, 2014
By William Burmester
Diocesan Seminarian
"My soul yearns and pines for the courts of the Lord. My heart and flesh cry out for the living God." (Psalm 84:2)
Today I was enjoying a walk out in the warmth of the sunshine. It was an awesome day to be outside especially since this winter has been such a harsh season. During my walk, I heard a train whistle in the distance. All of a sudden, I wanted to be back in my hometown. I missed home. I wanted to be back in Conway.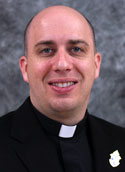 This sensation surprised me, but as I thought of my time in Conway I understood why this had happened. The presence of the train that runs through the middle of town has been a constant occurrence throughout my childhood and college years.
On most nights, I remember listening to the distant rumble of the train engine as I tried to fall asleep. I would anticipate its eerie whistle as it sped through main intersections in town. I remember growing more relaxed as the whistle of the train faded off into the distance. However, other times the train was also a nuisance. It would interrupt conversations when we would talk outside during school or after Mass. It would require a few seconds of awkward looks while hands were held over ears due to its deafening loudness. The train frustrated me when it would stop traffic for minutes as it crept through town during the middle of the day.
Until I heard the train today during my walk, I had not reflected on the perpetual presence of the train in my life when growing up in Conway. The train was a part of life, expected to interrupt plans daily. This nostalgic moment during my walk made me think of the Lenten experiences in my life. Lent has always been a part of my life, and I have often treated it as an expected interruption that would pass as soon as Easter had arrived. Jesus' resurrection being the event that ended the preparation period of Lent. That is, until it comes and interrupts my life next year.
This view of Lent makes each of the 40 days a burden to be carried. This year I am using Lent as a time to allow God to show me how much he loves me. There are aspects of my day that I have added and sacrificed, but they are merely to supplement God's action in my life. Since this is not my typical outlook on the Lenten season, it has been particularly difficult. It is not difficult because I see it as burdensome, but rather because it requires me to be in God's presence and allow myself to be loved by him.
I have found my personal prayer to be enriched because God is showing me how he loves me not for what I do, but for who I am. God is not only showing me his presence and love in private prayer, but also in the conversations I have with friends and family. I am becoming more open with those around me and I am able to see how deeply I am loved.
God is providing me with an intimate community that allows me to be honest with myself. Much like the sound of the train reminded me of my hometown, my community reminds me of eternal life with God. The sound of the train does not fulfill my yearning for my hometown, but it makes my heart ache to be home again. The yearning can only be fulfilled when I return home.
In the same way, a fruitful community does not fulfill my yearning to be with God eternally, but it makes me desire eternal life more deeply. Lent has now become a time of reflecting on God's faithfulness in my life, and I am able to relax more each day we draw closer to the joyful Easter season.
William Burmester, a member of St. Joseph Church in Conway, is a diocesan seminarian, attending St. Meinrad Seminary in Indiana. This article was originally published in Arkansas Catholic. Copyright Diocese of Little Rock. All rights reserved. This article may be copied or redistributed with acknowledgement and permission of the publisher.