Letters from Seminary: Burmester
In suffering and pain, we acknowledge dependence on God
Published: May 18, 2013
By William Burmester
Diocesan Seminarian
"He that goes forth weeping, bearing the seed for sowing, shall come home with shouts of joy, bringing his sheaves with him." (Psalm 126:6)
With great expectation I entered into the Easter season this year. I am ready to feel the joy that Christ's resurrection has provided. I am happy here in the seminary and I feel God's presence in my life, but a sorrow overshadows this happiness.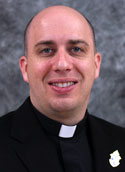 How can I be joyous when God seems so absent in the world? Innocent runners and supporters are bombed in Boston; in Texas a small city is left to rebuild itself from rubble and fragmented lives; and schoolchildren and citizens in a small town in Connecticut experienced tragedy in a place that should be safeguarded for naps, recess and laughter.
Jesus has risen and defeated sin and death and yet we continue to suffer. Several of those very close to me have passed away in the past year. These people impacted my life and their absences leave me with questions and heartache.
I miss my high school religion teacher, Mrs. Stephanie Shachmut, whose voice I can still hear when I am struggling. "Take it one step at a time. You can do this. Remember you are loved," she reminds me. I miss my seminarian brother, Daniel Phillips, who had a pure zeal for the priesthood and an authentic joy for life. I miss Deacon Joe Bruick from Texarkana. He showed me how to suffer loss of a loved one gracefully and how to find joy in ministry for others. I miss Betty Friend. The art of her hospitality made me feel not only like a welcomed guest but a son, someone who belongs.
There is no doubt that the Holy Spirit is present and working in our Church and yet there are many tragic situations that make us feel helpless. I miss my cousin, who committed suicide 11 years ago. A seminarian brother and mentor, Joseph Chan, very recently close to death, now finds himself on the long and strenuous road of recovery.
A fellow seminarian, months away from graduation and priestly ordination, discovered that he had an inoperable recurrence of cancer. He humbly and bravely battled the disease all semester, but unfortunately, passed away May 10. He was ordained a priest for 40 hours and was able to celebrate Mass before passing away.
All of this became a source of reflection for me one day at Mass. I was moved to sadness, and it became an instant of suffering in the midst of a good day. What is the point of all this hurt? My eyes were drawn to the cross, and I began to wonder why Christ was made to suffer. Is there any good that comes from suffering? It was not like this in the beginning, in the garden. I desire to be there in the garden walking with God at sunset, but instead I suffer here.
Surprisingly, it was in this struggle that I met God. In my suffering I am placed in a position of reliance on God. This dependence on God is rooted in faith, hope and love. I am beginning to notice that in my suffering my desire for God grows. My heart is softened by what is troubling it. I know that I need God to be God because I cannot comfort all of those who are missing loved ones or going through difficult situations.
In my compassion and empathy for others, God is creating a priestly heart in me, which is a heart ready to offer the needs of others to God in prayer and worship. My heart is being transformed into one that feels sorrow and pain because of the evil and pain present in the world.
When suffering brings me closer to God, my heart becomes available for him to mold, to form in his image. Maybe the expectations that I had for the Easter season are being realized after all. The Easter season is not only about emotions, but a paradoxical adventure toward God through total dependence on him.
William Burmester, a member of St. Joseph Church in Conway, is a diocesan seminarian, attending St. Meinrad Seminary in Indiana. This article was originally published in Arkansas Catholic. Copyright Diocese of Little Rock. All rights reserved. This article may be copied or redistributed with acknowledgement and permission of the publisher.