Letters from Seminary: Burmester
Daily commitment helps seminarian handle transitions
Published: July 16, 2016
By Deacon William Burmester
Diocesan Seminarian
"Commit to the Lord; trust in him and he will act" (Psalm 37:5)
I am living as a man of transition and it can get tiring sometimes. I guess I have been for a while since the life of a seminarian is one of transition, discernment and commitment.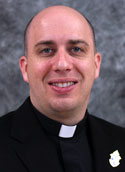 Each summer consists of a different ministry in a different place, forming new connections and moving back to seminary a few weeks or months later. Transitions can be hard.
However, I have spent more time reflecting about the transitions we all face in life and how moments of commitment set anchors in our spiritual life to keep us rooted in community.
Over a two-week period, I was blessed to witness five of my classmates, in their home parishes, give their life to the Church. They committed themselves to the life of the diaconate with the understanding that, God willing, they will be called to the order of the priesthood.
Then on Saturday, May 28, five transitional deacons were ordained priests for the Diocese of Little Rock, bringing to fulfillment the commitment made at their diaconate ordination. Each one of these men are living out a transition that is rooted in commitment.
On June 2, I was ordained as a transitional deacon for the Diocese of Little Rock. Family and friends surrounded me in both presence and prayers on the day of my commitment to serve God as a deacon.
For the past month, I have been at Blessed Sacrament Church in Jonesboro for my summer assignment. The parish has shown me their hospitality, patience and love as I begin my ministry as a deacon even if I am a transitional part of their life. In my very short time of ministry, I have noticed the many ways parishioners commit themselves to God.
In the sacraments, many commit themselves to God's love and mercy on a daily basis. There are some parents committed to drive more than an hour so that their children can receive preparation to receive their sacraments. A daily visit to the church to pray in silence, the poor served every week by outreach ministries, families visited in the midst of their loved one's death are all unique examples of the parishes' commitment to serving God and his Church.
Their commitment has inspired me, even in the midst of transition, to trust God and his work in my life. Yes, I am a man of transition. I am serving the parish in Jonesboro for two months and I am going back to the seminary for one last year. It is hard to believe that I am a deacon and in less than a year, God willing, I will be ordained a priest.
I know that transitions will be a regular presence in my life as a priest, but with a daily commitment to God each day I think that the life of transition will be a blessing for me. I am inspired by the number of Christians who commit themselves to Jesus Christ and his work in their unique and important ways. I am inspired by you!
Thank you for showing me the ways in which God is at work in my life and in the Church. Maybe transition is not such a bad thing.
Deacon William Burmester, a member of St. Joseph Church in Conway, is a diocesan seminarian attending St. Meinrad Seminary in Indiana. He was ordained a transitional deacon June 2, 2016. This article was originally published in Arkansas Catholic. Copyright Diocese of Little Rock. All rights reserved. This article may be copied or redistributed with acknowledgement and permission of the publisher.