Letters from Seminary: Burmester
Forming my life, faith through my earthly, spiritual parents
Published: August 17, 2013
By William Burmester
Diocesan Seminarian
"God created mankind in his image; in the image of God he created them; male and female he created them." (Genesis 1:27)
I'm a momma's boy. Always have been and always will be. I have always been proud of being a momma's boy, and I know with this pride I would protect her at all cost from harm, insult or disgrace. There is a sense of needing to be a protector that I have always felt and that leads me to be very sensitive to the way people treat her.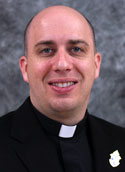 I think my affection grew deep because she sacrificed her job in order to be a stay-at-home-mom for me and my two brothers. I experienced her love day in and day out through her patience, affection and even through her discipline. My dad made an equal sacrifice by having to provide the income for the whole family by putting in many hours each work week. This meant on a weekly basis he would have to work out of town on business trips.
I will never know the sacrifice my parents endured, but I know that it was a form of sacrificial love offered for each other and my brothers and me. Not a day went by in my life at home without a family prayer and being told by my parents how much they loved us. Love was a foundation within my family.
I learned that love can be expressed in many diverse and beautiful ways. The most profound way in which I saw love in action was in their art of hospitality. My parents enjoy being around people and making everyone feel at home. My mom enjoys preparing an environment of hospitality by putting in hard work to create a welcoming atmosphere in the home. My father can entertain a crowd with his charismatic personality and stories. The way they make others feel like they belong and comfortable in our homemade for many good memories.
This summer I was able to spend time with some of the friends who were a part of my life because of my parents' hospitality. The most common statement directed toward me was about how much I am beginning to resemble my father. They would clarify that they didn't only mean my appearance but in my mannerisms and the way I handle myself in groups. Although I haven't noticed much change in myself, I feel grateful to receive this compliment. I have always respected the way my dad loves others, and I have wanted to love others in the same way.
I now see that the love with which I grew up has formed me into who I am today. I see that the love I share with others has been a consequence of how I was loved by my parents. All those who show me love in life teach me new ways to love and I bring that love to my relationship with God so he can form me in his unique and personal way.
There are two central characteristics to my spirituality that God is beginning to reveal to me in discernment for the priesthood. He wants me to be a momma's boy, and he wants me to resemble my father. He wants me to be a priest that relies on Mother Mary and who protects her because of the love Christ has for her. He also wants me to be a priest who resembles himself as my father in the way I think, act and love.
God has put a desire in my heart to be a glimpse of the infinite love God has for each and every one of his children. This will take knowing him personally through meditative prayer, regular reception of the sacraments, ministry and holy relationships. I pray that my future parishioners can honestly say they have a pastor who is a momma's boy and is a living image of his father in both the worldly and spiritual sense.
William Burmester, a member of St. Joseph Church in Conway, is a diocesan seminarian, attending St. Meinrad Seminary in Indiana. This article was originally published in Arkansas Catholic. Copyright Diocese of Little Rock. All rights reserved. This article may be copied or redistributed with acknowledgement and permission of the publisher.