Letters from Seminary
'What's in it for me?': Unimaginable love
Published: May 29, 2010
By Mauricio Carrasco
Diocesan Seminarian
Before entering the seminary I would often ask myself: Is the priesthood a good deal for me? I remember conjuring up in my head a balance sheet with all the assets and liabilities of this vocation. The underlying question was: What's in it for me? This way of discerning can be extremely complicated and lead one to make a very poor choice.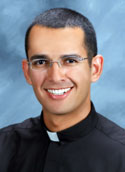 True discernment must involve an often forgotten variable, which is the experience of falling in love. Many young men can easily recall their first date. There is nothing like sitting across from her, dumbfounded, and reveling at the fact that such a beautiful girl has come to dinner with you. You keep thinking, "She said yes to me? No way! ... You've got to be kidding me." You feel unworthy of such generosity.
Discerning a call to the priesthood became much easier for me the summer after my first year in seminary. I began to feel very much like the young man on a date, albeit in a very different way. I had the opportunity to attend the Institute for Priestly Formation, a summer spirituality program for seminarians.
I remember telling my spiritual director: "Father, I've thought about being a priest for a long time, but I also want to fall in love. It is such a great feeling." My spiritual director said, "Mauricio, believe me, if God wants you to be a priest, he will lead you to fall deeply in love with him."
About a week afterwards, I went to confession with this priest. He asked me to confess all my sins, even those I could remember from my childhood. Once I finished, Father simply said, "Mauricio, I sense that your biggest sin is not believing that God can forgive you, not believing that God loves you unconditionally." He said this with such a great love and conviction that I began to cry.
Never in my life had I experienced such great generosity. I thought hesitantly, "Is this true? No way!" As I look back, I realize that I was beginning to fall in love. It is hard to give your life to someone you don't love. The priesthood is a calling from God, and as such, this vocation must necessarily involve a loving relationship with the Father. If it is not there, discernment can be calculating and unnecessarily complicated.
As I look forward to my ordination, I like to see myself holding up the host, preaching, granting absolution, giving someone their first Communion, anointing someone in the hospital, preparing a couple for marriage, etc. I often do this in prayer and I begin to feel the love. I discovered that the Father not only loves me so much he wants to throw a party for me (Luke 15: 22-24), but that I am "God's chosen" and "beloved servant" (Matthew 12: 15-21). "Me? Chosen and beloved. God, are you for real? No way!"
This series was written when seminarian Mauricio Carrasco was studying for the priesthood and chronicles the joys and struggles of his formation along the way. Today, Father Mauricio Carrasco is a priest serving the people of the Diocese of Little Rock. The series was originally published in Arkansas Catholic. Copyright Diocese of Little Rock. All rights reserved. It may be copied or redistributed with acknowledgement and permission of the publisher.