Letters from Seminary
I am called to love Church as Jesus loved
Published: February 18, 2012
By Mauricio Carrasco
Diocesan Seminarian
"My Father, if it be possible, let this cup pass from me; yet, not as I will, but as you will." (Matthew 26:39)
In January I had the opportunity to go to Rome. Our seminary pays for all the deacons to go and take a two-week course with our rector. Walking with my brother seminarians through the land of so many martyrs was a great experience.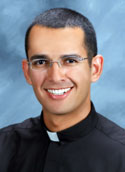 We had a chance to celebrate Mass in the catacombs of St. Callistus. I also went to St. Peter's Basilica and prayed in front of St. Peter's tomb and in front of Blessed John Paul II's tomb.
While I was there, I also bought a chalice. This is the chalice that the bishop will consecrate, and the one that I will use for my first Mass and for the rest of my life. It is something very special. I had always hoped to be able to tell a great story attached to the buying of my chalice, but there is not. In fact, there is a rather sad one.
On the day of my departure from Rome, I was the first to check in at the airport. The young Italian man at the counter took my ticket for verification. Seeing that I was carrying a box, he asked in broken English: "What is in the box?" "It's a chalice," I said. "Is that a cup?" he asked, as if he didn't understand.
I was somewhat disconcerted by the fact that a Roman wouldn't know what a chalice is, so I told him the Italian word for it. "Is it for historical purposes?" he asked, still seemingly confused about the whole thing. "It is for Mass," I told him. "I am going to be a priest." The young man then looked at me and said in a somewhat cynical tone, "Is there still people who want to be priests?"
I must say that I was hurt by his question. I was hurt because this young man seemed to be implying that priesthood was a thing of the past, or that it was no longer a vocation worthy of pursuit. I think the Lord is trying to tell me something through this and many other incidents I have experienced lately.
The Church I am getting ready to dedicate my life to, my future bride, is a suffering Church. She is diverse and beautiful, but much wounded indeed. The Church suffers from a crisis of faith.
The only way to heal those wounds is to love her just as Jesus loved her, through the self-giving love of the cross. The young man probably did not realize that the chalice he was inquiring so much about will be an instrument used in the perpetuation of the only love capable of healing his unbelief and the many sufferings of the Church.
As I get ready to use this chalice for the first time, I cannot help but think of Jesus' prayer at Gethsemane: "My Father, if it be possible, let this cup pass from me; yet, not as I will, but as you will."
Being a priest, drinking from the cup, is not going to be easy; yet it is an undeserved blessing, to say the least. I cannot see myself doing anything else with my life.
I feel a great sense of peace. I feel privileged to have been called to love in this way. I said a prayer for that young man at the airport. I pray he comes to see the love that Christ has for him in continuing to call many men, even today, to drink from "the cup."
This series was written when seminarian Mauricio Carrasco was studying for the priesthood and chronicles the joys and struggles of his formation along the way. Today, Father Mauricio Carrasco is a priest serving the people of the Diocese of Little Rock. The series was originally published in Arkansas Catholic. Copyright Diocese of Little Rock. All rights reserved. It may be copied or redistributed with acknowledgement and permission of the publisher.