Letters from Seminary
Reality of calling is no dream, nightmare
Published: October 16, 2010
By Mauricio Carrasco
Diocesan Seminarian
"You create the world of a dream; you bring the subject into that dream ... It's not strictly speaking legal ... It's called inception." You might recognize this line from this summer's hit movie "Inception." Cobb, the main character in this film, tries to implant an idea in a person's subconscious during a dream, when the mind is most vulnerable; hence, the title "Inception."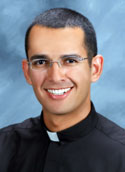 I watched this movie two weeks or so before I was to give my vocation story in front of a couple hundred people. As I was reflecting on my calling, I could not help but ask myself, What if Msgr. Friend has carefully implanted this idea of priesthood into my subconscious? What if I am not really called to be a priest? He talked me into it!
I was also thinking about a talk my hospital chaplaincy supervisor had just given to us. His point was that the call to ministry often boils down to a set of cultural, social and familial factors. I kept playing back all childhood memories, wondering if my parents implanted this idea in my mind, or perhaps my grandmother or ... I recalled the questions people had asked me in the past.
How do you know that God called you? Celibacy, really? Why not serve God doing something else? Then, I questioned, "What if am merely satiating my own ego, rendering my experiences so that they come together into a cute story?" I began to feel this sinking feeling in my heart. Anxiety and darkness slowly overtook me; it was a nightmare.
Unlike most nightmares, however, I did not wake up from this one for several days. In fact, it seemed so real that I wanted to remain in it. A few days later, I was watching television in the overnight room for hospital chaplains. I was the chaplain on call that night and I had my pager at hand. While I was mindlessly flipping through the channels, my pager beeped. I called the number back and the nurse said, "Could you come to the ED? We have a young man who would like to talk to you."
I got up and walked down to the Emergency Department. I was going through the motions in a zombie-like manner, not really thinking about what I was doing. I arrived half-heartedly to the room only to find a young man who had been bleeding from his wrists. There was another young girl and young man in the room.
"What's going on?" I asked. He replied in a cracked voice, "I wanted to see if you had anything to say to me." Without any hesitation, he carried on. "My father has abused me since I was a little kid ... I was trying to get God to hear me ... I am so tired of life."
His words were a cold bucket of water splashed onto my face. I listened to him and to the young girl, whom he identified as his fiancée. I talked to them for quite a while. At one point, the young man turned to me with tears in his eyes and said, "I love you." It was then, if my memory is not betraying me, that I completely woke up. His disregard for the social awkwardness of his statement, his bloody wrists and his tired countenance were all too real.
In my journey to the priesthood, I continue to struggle being present to reality. I am guilty of long periods of sleep, which either brings me to a nightmare of unbelief or a dream-like priesthood that serves my own ego. My formation, far from being a brainwashing process, has provided me with a number of experiences in which God has awakened me to the reality of his calling.
How do I know I am awake? Because it feels like I snap. I open my eyes, and without fail, I am beholding the cross. In light of the reality of the cross, everything else seems strange.
This series was written when seminarian Mauricio Carrasco was studying for the priesthood and chronicles the joys and struggles of his formation along the way. Today, Father Mauricio Carrasco is a priest serving the people of the Diocese of Little Rock. The series was originally published in Arkansas Catholic. Copyright Diocese of Little Rock. All rights reserved. It may be copied or redistributed with acknowledgement and permission of the publisher.