Letters from Seminary
My spiritual family expanded in seminary
Published: February 19, 2011
By Mauricio Carrasco
Diocesan Seminarian
"For as many of you as were baptized into Christ have put on Christ. There is neither Jew nor Greek, there is neither slave nor free, there is neither male nor female; for you are all one in Christ Jesus. And if you are Christ's, then you are Abraham's off spring, heirs according to promise." (Galatians 3: 27-29)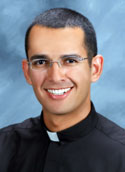 This past October, on the feast of Luke the Evangelist, Pope Benedict XVI wrote a letter to all seminarians. In it, he said that "one does not become a priest on one's own." Pope Benedict then proceeded to talk about the importance of the seminary community.
I must say that the support and brotherhood that I have found in seminary have been invaluable. It did not take long for me to see the community at St. Meinrad Seminary as family. The pope's words, however, have led me to reflect on the growing family that is continually supporting me on my journey to the priesthood.
Last year, as I was sitting in the Blessed Sacrament chapel, I felt that someone put his arm on my back. I quickly turned and saw Jerry, a parishioner of St. Raphael Church in Springdale.
Jerry handed me a prayer for me to read and told me that this was the prayer he often said for me. The prayer asked the Lord to accompany me in times of discouragement, to bless my ministry and to continually make my heart like Christ's.
It is a beautiful prayer, and simply knowing that Jerry is praying for me is very encouraging and moving. Undoubtedly, his prayers have strengthened me many times, and they will shape me into the kind of priest I become.
In this sense, I must say that Jerry is very much a spiritual father to me; he is like family. Ken, another man I met in the adoration chapel, tells me he has been praying for me even before I answered the call. It does not cease to amaze me how many people think about me and pray for me. On my 26th birthday, I received a letter from a young man I know who is in prison.
He wanted to wish me a happy birthday. Often, I receive letters from the kids who are in our Catholic schools all over the state. They tell me they are praying for me in their classrooms. A family told me they pray for me before they have a meal together. The Carmelite sisters, the Missionaries of Charity, the Benedictines and many others have told me they are always praying for me and for my brother seminarians. Isn't it amazing?
I feel like my family is growing more and more. What is really awesome is that my family is very diverse. I have met people from all walks of life and from very different backgrounds who tell me they are looking forward to my ordination. This diversity is something that is very meaningful to me because I am the son of two cultures.
I lived my childhood in Mexico, but I have lived a great part of my life here in the U.S. I have wondered, and people have often asked me, if I consider myself more Mexican or more American. I must answer that before being a Mexican or an American, I consider myself a Christian.
My vocation has been fostered by people of many different cultures. God willing, I will be a good father to them all. What brings my family together is not a single nationality, language or social identity.
In the words of Father Udo Ogbuji, "it is the blood of Jesus Christ that makes us all one." This summer, Alejandro Puello, Juan Manjarrez and I will be ordained to the diaconate. Say a prayer for us.
This series was written when seminarian Mauricio Carrasco was studying for the priesthood and chronicles the joys and struggles of his formation along the way. Today, Father Mauricio Carrasco is a priest serving the people of the Diocese of Little Rock. The series was originally published in Arkansas Catholic. Copyright Diocese of Little Rock. All rights reserved. It may be copied or redistributed with acknowledgement and permission of the publisher.