Letters from Seminary
Like a man loves a woman, I love Church
Published: October 22, 2011
By Mauricio Carrasco
Diocesan Seminarian
As we were jogging through the trails of Hoosier National Forest, Tom and I got to talking. Believe it or not, I have had some of the best conversations while running with a good friend.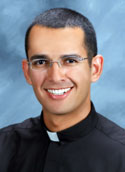 This particular fall afternoon, I was in my fourth year of seminary and I had just gotten out of a class on the sacrament of marriage, and I remember being particularly excited about the whole thing.
I remember telling Tom, "Do you realize what a wonderful thing it must be to get on your knees before the love of your life and ask her to marry you? I mean, it's got to be awesome." Tom definitely agreed.
I then said, "Sometimes I feel like going out and finding me a woman, getting on my knees and asking her to marry me." At this time, Tom was laughing, but he was still nodding his head in agreement.
"Tom," I finally said, "we will never get to do this." Kneeling down before the love of your life is probably one of the most beautiful moments in a man's life. I have often wondered what this gesture means. Perhaps it is an enactment of how small he feels in her presence. He kneels because he knows the only way to declare his love to her is by looking up at her.
I imagine the young man ought to feel somewhat at this moment like I have felt many times while hiking through the Ozark Mountains or canoeing down the Buffalo River. Looking up at the beauty of the trees and the magnificent bluffs, I cannot help but feel small.
But if I feel small it is not because I feel in any way ignored or belittled; instead, I feel small because I recognize that I am standing in the midst of something great. Perhaps something similar happens to the young lover.
This past summer I was ordained a deacon for the Church. It was particularly meaningful to me that most of the ordination happened while I was on my knees. It only makes sense that I should kneel down before the whole Church when I declare my love for her and Christ.
I have met many people on my journey to the priesthood who have made me feel very small. As they have welcomed me, sometimes into the most intimate part of their lives, I have truly felt the sense that I am standing in the midst of someone great.
In my few months left as a deacon and in my years to come as a priest, I have promised to get on my knees and pray for the love of my life. And I pray that as the years go by, my kneeling down will not be a mere outer gesture, but an act forever shaping me into the kind of man who can love the Church like Christ. So help me God!
"A lone young shepherd lived in pain withdrawn from pleasure and contentment, his thoughts fixed on a shepherd girl, his heart an open wound with love. ... After a long time he climbed a tree, and spread his shining arms, and hung them, and died, his heart an open wound with love." — St. John of the Cross
This series was written when seminarian Mauricio Carrasco was studying for the priesthood and chronicles the joys and struggles of his formation along the way. Today, Father Mauricio Carrasco is a priest serving the people of the Diocese of Little Rock. The series was originally published in Arkansas Catholic. Copyright Diocese of Little Rock. All rights reserved. It may be copied or redistributed with acknowledgement and permission of the publisher.