Letters from Seminary
Pastor's recruiting efforts worked for me
Published: March 27, 2010
By Mauricio Carrasco
Diocesan Seminarian
"'Put out into the deep water and let down your nets for a catch.' Simon answered, 'Master, we have worked all night long but have caught nothing. Yet if you say so, I will let down the nets.' ... But when Simon Peter saw it, he fell down at Jesus' knees, saying, 'Go away from me, Lord, for I am a sinful man!'" (Luke 5:4-8)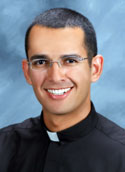 Father John Antony walked up to me after Mass and told me I should enter the seminary. He said, "You should join us," in his characteristically lighthearted tone. I, however, did not take the matter very lightly.
My girlfriend was standing next to me and as a full-time college student the last thing I needed was something to divert my attention from what I had determined to be my career-life goals. I smiled at Father Antony's comment but inside my head I was saying, "OK, back off Father."
About a year later, I received Fulton Sheen's book, "The Priest Is Not His Own," as a gift from Father Antony. In it, he wrote, "I pray that whatever vocation you pursue, you will give yourself totally to Christ." Well, his note seemed to be rather compromising, but the book did not. It was all about sacrifice, and at that point in my life I thought I had heard enough of that.
My last year of college I went to a basketball game and looking out into the crowd I saw Father Antony in his clerics next to a family. I thought to myself, this guy is everywhere. He was like an online advertisement, just popping up everywhere.
I've been thinking about all this for a while now, and I have to admit the great role Father Antony has played in me answering the call to the priesthood. Although his bold recruiting methods and insistent presence in my life were sometimes uncomfortable, he was a constant reminder to cast my nets "out into the deep water."
There is something very real about him. He may be the most ordinary priest in Arkansas, yet he is extraordinarily well grounded in his priesthood. He doesn't "play games," as they say. You can tell he really prepares his homilies, and that he is truly present to the sacrifice and celebration of the Mass. Celebrating the sacrament of reconciliation with him, listening to his "theology of the body" talks, hearing him preach to the grade-school kids, watching him interact with people after Mass, all speak of how real Father Antony is. He does not compromise any aspect of his priesthood.
On this Year for Priests, I would like to thank Father Antony for not being that compromising priest, for being bold, real and for giving himself totally to Christ. His spirit, I know, is grounded in a strong prayer life, a great trust in the Lord and a deep awareness that "the priest is not his own."
His example encouraged me to "let down the nets," so to speak, and finally enter the seminary. There is no greater recruiting tool than the example of priests like Father Antony. Why? Because priests like him have a way of being that make you stop and question just how real you are. They question how much you really trust in the Lord, how much you really believe in him.
Unlike an Internet pop-up ad, Father Antony kept offering me the real deal. His genuineness helped reveal everything that was counterfeit about me and it helped bring out everything real. This is why sometimes his presence made me feel uncomfortable.
Two years into theology, realizing how compromising I was and can be, I thank God for Father Antony and ask God's forgiveness and help, for "I am a sinful man!"
This series was written when seminarian Mauricio Carrasco was studying for the priesthood and chronicles the joys and struggles of his formation along the way. Today, Father Mauricio Carrasco is a priest serving the people of the Diocese of Little Rock. The series was originally published in Arkansas Catholic. Copyright Diocese of Little Rock. All rights reserved. It may be copied or redistributed with acknowledgement and permission of the publisher.