Almsgiving: Caring for the least among us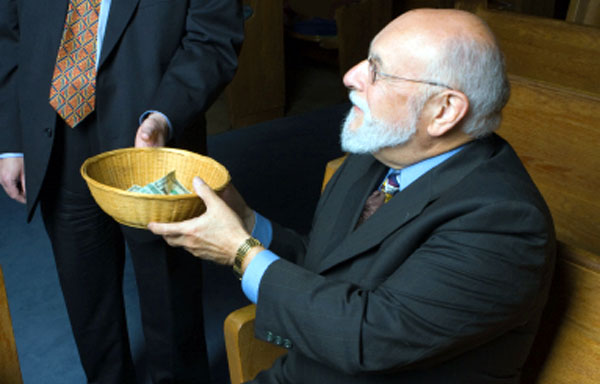 The demand for Christians to be charitable is a frequent theme in the Gospels. During Lent, we are asked to focus more intently on almsgiving, which means donating money or goods to the poor and performing other acts of charity. The Catechism of the Catholic Church explains that "giving alms to the poor is a witness to fraternal charity: it is also a work of justice pleasing to God." (no. 2462)
"When the Son of Man comes in his glory, and all the angels with him, he will sit upon his glorious throne, and all the nations will be assembled before him. And he will separate them one from another, as a shepherd separates the sheep from the goats. He will place the sheep on his right and the goats on his left. Then the king will say to those on his right, 'Come, you who are blessed by my Father. Inherit the kingdom prepared for you from the foundation of the world. For I was hungry and you gave me food, I was thirsty and you gave me drink, a stranger and you welcomed me, naked and you clothed me, ill and you cared for me, in prison and you visited me.'
"'For I was hungry and you gave me food, I was thirsty and you gave me drink, a stranger and you welcomed me, naked and you clothed me, ill and you cared for me, in prison and you visited me.'"
"Then the righteous will answer him and say, 'Lord, when did we see you hungry and feed you, or thirsty and give you drink? When did we see you a stranger and welcome you, or naked and clothe you? When did we see you ill or in prison, and visit you?' And the king will say to them in reply, 'Amen, I say to you, whatever you did for one of these least brothers of mine, you did for me.'
"Then he will say to those on his left, 'Depart from me, you accursed, into the eternal fire prepared for the devil and his angels. 'For I was hungry and you gave me no food, I was thirsty and you gave me no drink, a stranger and you gave me no welcome, naked and you gave me no clothing, ill and in prison, and you did not care for me.'
"Then they will answer and say, 'Lord, when did we see you hungry or thirsty or a stranger or naked or ill or in prison, and not minister to your needs?' He will answer them, 'Amen, I say to you, what you did not do for one of these least ones, you did not do for me.' And these will go off to eternal punishment, but the righteous to eternal life." (Matthew 25:31-46)
---
Almsgiving Suggestions
The following offers just a few ways to donate your treasure to those in need. For suggestions on how to give your time and talent, see 25 ways to do works of mercy in Arkansas.
CASA — Give to the Catholic Arkansas Sharing Appeal, which provides critical funding for the pastoral, educational and social needs of our diocese. In his 2017 CASA homily, Bishop Anthony B. Taylor said, "If everyone participates, we will affect lives for many years to come." You may choose from a one-time gift or pledge to be paid in 10 monthly installments. Donors may pay by check, credit card or bank draft. If you wish to donate online, visit Online Giving.
CRS Food Fast — Support the youth in your parish who fast to learn about the struggles of people in developing countries by donating a set amount for each hour of fasting. To find out if your parish will offer this event during Lent, contact your parish.
CRS Rice Bowl — What you give up for Lent changes lives. Grab a rice bowl at your parish or school and drop your spare change in it during Lent. Your change brings life-saving change to people in developing countries and at home because 25 percent of the money collected stays in Arkansas to help those in need. Download the CRS Rice Bowl App or learn how this program fits into Lent by watching the "What is Lent?" video series. For more information, contact Rebecca Cargile.
Be a Guardian Angel — Over the past year, Arkansas Catholic digitized 23 years of archived newspapers. The fragile bound volumes were electronically scanned and made searchable from 1911 to 1986 and soon through 1994, preserving our Catholic history in Arkansas. Since this campaign's launch in 2010, parishes, religious orders, businesses and individuals have donated $74,000 to support it. The newspaper is now focused on getting all volumes through 2001 digitized. Donors can sponsor a year in honor of a pastor, family member or parish or in memory of someone for as little as $500. For more information, call (501) 664-0125 or visit Arkansas Catholic.
Scholarship Appeal — Help provide scholarships for students who cannot afford their tuition in an Arkansas Catholic school. The schools subsidize the cost to educate each child through donations, fundraisers and parish subsidies, but many schools are not able to cover the entire amount the families need. Donate online to the Catholic Schools Scholarship Appeal or mail a check to: Catholic Schools Office, Diocese of Little Rock, P.O. Box 7565, Little Rock, AR 72217.
Special Collections — These are taken up in all parishes throughout the year. Visit our special collections calendar to help you plan your donations. During Lent, special collections will be taken up on Ash Wednesday, Catholic Relief Services March 25-26, our diocesan seminarians on Holy Thursday and the Holy Land on Good Friday.