Pope: Fast for peace this Ash Wednesday
Published: February 25, 2022
Lent
. Click on the button above to find events in your area.
Contact your parish
for Ash Wednesday Mass times on March 2. Confirm the schedule by calling the parish office. Ash Wednesday is
a day of
fast and abstinence.
A special
Ash Wednesday Collection
will be taken up during all Masses in the Diocese of Little Rock to support the evangelization mission of the Church in Arkansas by helping to provide for the priests, religious and lay people who proclaim the Gospel of Jesus Christ in places where the people they serve don't have the financial resources to provide for them.
We enter into Lent this year after two years of pandemic and now the threat of war. Pope Francis is appealing to everyone "believers and non-believers alike" to make Ash Wednesday a "day of fasting for peace on March 2." He said his "heart aches greatly" for the situation in Ukraine, which was attacked by Russia Feb. 24. | Fasting and Abstinence Guidelines
"Jesus taught us that the diabolical senselessness of violence is answered with God's weapons, with prayer and fasting. I invite everyone to make next March 2, Ash Wednesday, a day of fasting for peace. I encourage believers in a special way to dedicate themselves intensely to prayer and fasting on that day. May the Queen of Peace preserve the world from the madness of war," the Holy Father said during his general audience Feb. 23.
"Like me, many people all over the world are feeling anguish and concern. Once again the peace of all is threatened by partisan interests. I would like to appeal to those with political responsibility to examine their consciences seriously before God, who is the God of peace and not of war; who is the Father of all, not just of some, who wants us to be brothers and not enemies," he said.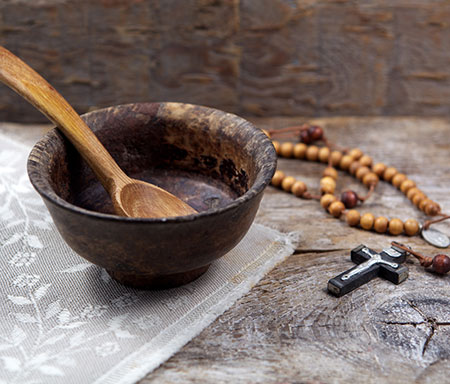 Bishop Anthony B. Taylor issued a statement about the Russian invasion of Ukraine, Feb. 25, which he called, "one of the most blatant violations in our lifetime," with regard to the Just War theory. Read his statement. He also asked everyone to "consider lifting the people of Ukraine up in prayer to the Lord in the context of stations of the cross this Friday, for an end to the conflict, for peace and justice, for all who have died and for all who are in harm's way."
He will be leading the stations on Friday, March 4 at the Cathedral of St. Andrew in Little Rock at 6 p.m. for this intention. "If your parish does not pray the stations of the cross or otherwise have no Friday plans, you are certainly welcome to join me at the Cathedral for stations and prayer for Ukraine there."
Ash Wednesday begins the season of Lent. Though it is not a holy day of obligation, it is a day of fast and abstinence. We are marked with ashes, in the form of a cross, on our forehead on Ash Wednesday. Why? Father Erik Pohlmeier, diocesan director of faith formation, said the prayer offered as ashes are given answers this question. "The words are a reminder of our origins, 'Remember that you are dust, and to dust you shall return.' The ashes and the whole season of Lent are a time to refocus on our relationship with God and that relationship starts with a dependence on God for our very existence." Learn more about Ash Wednesday or Lent.
The Lenten season offers us the help we need to remember whose we are. It offers us the chance to start anew. That no matter how long it is has been or what we have done, the Lord calls us to come to him. "Even now, says the LORD, return to me with your whole heart." (Joel 2:12) Even though Lent is somber in nature, there should be no fear in our repentance because it is the first step toward the joy and the new life offered on Easter Sunday.
Lent is a 40-day, penitential season focusing on prayer, fasting and almsgiving. "In this season of conversion, sustained by God's grace and by the communion of the Church, let us not grow tired of doing good. The soil is prepared by fasting, watered by prayer and enriched by charity," said Pope Francis in his 2022 Lent Message. "By cultivating fraternal love towards everyone, we are united to Christ, who gave his life for our sake, and we are granted a foretaste of the joy of the kingdom of heaven."
Beginning in June the Catholic Church in United States begins a three-year Eucharistic Revival of devotion and belief in the real presence of Jesus in the Eucharist. In response, Arkansas Catholic focused on the Eucharist in its annual Lent section this year. Readers may discover how the real presence has touched the lives of priests and lay people, find examples of eucharistic miracles and how to show proper respect and reverence with our hearts and actions when encountering Jesus in the Eucharist.
---
---