Pray without ceasing this Lenten season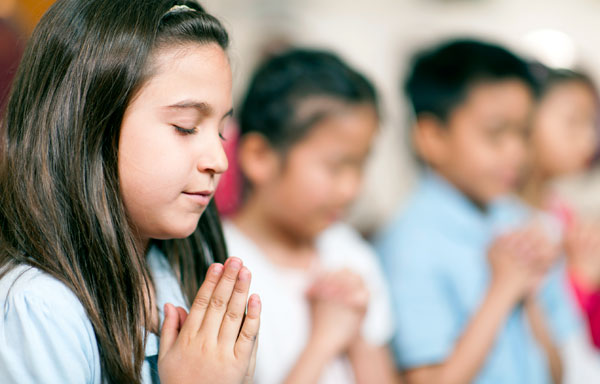 "For me, prayer is a surge of the heart; it is a simple look turned toward heaven, it is a cry of recognition and of love, embracing both trial and joy." — St. Thérèse of Lisieux
The Catechism of the Catholic Church explains that God initiates prayer. "The living and true God tirelessly calls each person to that mysterious encounter known as prayer.
In prayer, the faithful God's initiative of love always comes first; our own first step is always a response" (no. 2567).
Lent is designed to help us respond to that invitation. There are as many ways to pray as there people in the world. We all have a unique prayer language in our relationship with God.
According to the catechism, there are five distinct forms of prayer that have been revealed in the apostolic and canonical Scriptures and remain normative for Christian prayer (2625-2643). They are blessing and adoration; petition, intercession, thanksgiving and praise.
The following suggestions offer a few of the more popular ways to pray during Lent.
Eucharistic Adoration — Spend time with Jesus, who is truly present, body, blood, soul and divinity in the Blessed Sacrament at a Catholic church near you.
Bible Study — Gather a group to reflect on the Scriptures with a program from Little Rock Scripture Study, such as the "Passion and Resurrection Narratives of Jesus" or a free column series, like "Blessed Are You: The Beatitudes," the newest series that explores the blessings proclaimed by Jesus at the start of the revolutionary Sermon on the Mount.
Way of the Cross: Stations and Meditations From Arkansas — Enjoy reflections from Catholics in Arkansas and photos from churches and monasteries across the state; follow along on our website or watch the videos on our YouTube channel. Or find out how this ancient devotion began and how it has evolved to be one of the most popular ways to enter into Christ's passion and death in the Catholic Church.
Via Dolorosa in Jerusalem — Walk in the footsteps of Christ with this prayer feature that offers a map of the Way of the Cross in Jerusalem along with photographs from the path taken during the Arkansas Catholic Pilgrimage to the Holy Land.
Prayer Book of Intentions Online — Submit your prayer needs or join Bishop Anthony B. Taylor in praying for all the intentions added daily. Submit a prayer request in English or Spanish.
Bishop's Homilies — Reflect on the homilies of Bishop Anthony B. Taylor preached in parishes across Arkansas in English or Spanish.
MOMMS Prayer Watch — Join this group and lift up the Diocese of Little Rock seminarians in prayer each week in English and Spanish.
Prayer for Vocations — Pray for more vocations to the priesthood and religious life with this prayer written by Bishop Anthony B. Taylor in English or Spanish.
Pray With Us — Visit this page to find traditional Catholic prayers including the Our Father, Haily Mary, Divine Praises, Act of Contrition, Guardian Angel Prayer, Peace Prayer of St. Francis and more in English, Spanish and Latin.