Synod On Synodality 2021-23
Journeying Together: Communion, Participation, Mission
#ListeningChurch
Synod of Bishops in Rome October 2023
Bishop Taylor Response to Diocesan Report
Updated Oct. 4, 2023
The first meeting of the 16th General Ordinary Assembly of the Synod of Bishops is taking place Oct. 4-29, 2023 in Rome. According to Our Sunday Visitor, there are 450 participants from across the world who are members of the clergy, religious and laity. "More than a quarter of synod members are nonbishops, including laypeople, who for the first time will have a vote during synod deliberations. The synod general assembly has been divided into two sessions, with a second meeting planned for October 2024. According to a synod preparatory document, the synod is guided by questions of how the Church can 'journey together' to evangelize and how to grow to be more 'synodal' sometimes described as a 'listening Church.'" | Our Sunday Visitor Coverage | Follow on Facebook
Bishop Anthony B. Taylor released his response to the Diocese of Little Rock report on Dec. 3. 2022. Read his response or watch the video to learn more about his response, which includes questions for group discussion. | Download the Bishop's Response in PDF Format | Español
The diocesan report was submitted to the U.S. Conference of Catholic Bishops on May 16, 2022, to be included in the final report in preparation for the Synod on Synodality in 2023. This concluded the diocesan phase, which included listening sessions on the diocesan and parish levels to hear from parishioners and others connected or formerly connected to the Church share their thoughts on the Church. The goal of the sessions was to truly hear concerns the faithful believe are facing the Church and what challenges they are experiencing in their family, community and parish. | Read Diocesan Report | Español
Since then, the Diocese of Little Rock report was incorporated into the Region X report, which is made up of dioceses in Arkansas, Texas and Oklahoma. And that report was included in the U.S. national report, which is also available for download. | Region X Report | U.S. National Report
In September 2021, Pope Francis invited Catholics worldwide to take part in the Synod on Synodality, a two-year process of discussion and reflection in preparation for a meeting of the Synod of Bishops to take place in October 2023. This process began with the diocesan phase, which is followed by a national phase, regional phase all concluding with the meeting in Rome. | Español | What is Synodality? | Additional Resources
The Diocese of Little Rock began its diocesan phase with a Mass Sunday, Oct. 17, 2021, at the Cathedral of St. Andrew in Little Rock. Our diocesan theme was: "Journeying Together: Communion, Participation and Mission." Synod is Greek for "walking together on the same path." A synod is a process in which the Church discerns a particular issue. Since becoming pontiff, Pope Francis has held synods on the family (2014), youth (2018) and the Pan-Amazon region (2019).
In his homily at the Cathedral, Bishop Anthony B. Taylor explained the three touchstones of the process:
Communion — unity amid diversity, which finds its deepest roots in the love and unity of the Blessed Trinity.
Participation — builds on communion and seeks the involvement of everyone in this process of deep, respectful listening to each other.
Mission — Then once we have a shared sense of direction, the Holy Spirit leads us forth to share the love of God with the whole human family, and especially "those who live on the spiritual, social, economic, political, geographical and existential peripheries of our world."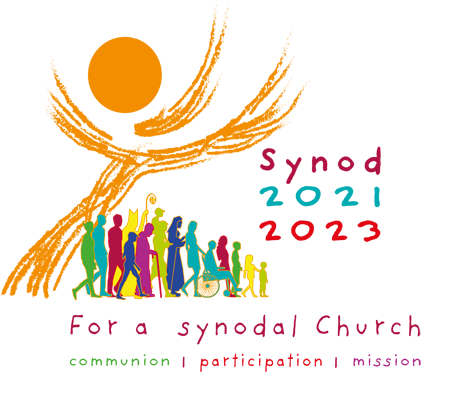 Pope Francis asked every diocese to hold listening sessions with a special focus on people who are marginalized in the Church and community. Bishop Taylor appointed Sister Mickey Espinoza, MCP, director of the Hispanic Ministry Office, and Liz Tingquist, director of the Catholic Campus Ministry and Catholic Youth Ministry offices, to lead the process in our diocese.
"Synodality requires that we really try to include those who feel excluded. Who would those people be in today's world? How about those who lack legal status in our country? Or elderly people abandoned in our nursing homes? How about people living in crime-ridden ghetto neighborhoods?" the bishop said in his homily.
"Who would the people be who feel excluded in today's Church? How about people who experience same-sex attraction? Or people who live together outside of marriage? How about those who feel wounded by something someone from the Church said or did in the past? How can we journey with people who, for whatever reason, feel pushed to the periphery in the Church and in society? There's a lot to learn from each other." | Read homily
Each parish or deanery in the Diocese of Little Rock, led by a synod representative or team trained on how to conduct the process, held discussions through April 2022. Then, they compiled a report and turned it into the diocese. The diocesan team summarized the parish reports into a 10-page document for the U.S. Conference of Catholic Bishops. The USCCB will take all diocesan reports nationwide and summarize them into a national report to be submitted to the Vatican for the synod's general assembly in October 2023.
"Truth is horizontal as well as vertical, and it takes humility to listen, to truly listen to the lived experience of those whose perspective on things is very different from our own," the bishop said in his homily. "And yet the Holy Spirit is there as well — he's everywhere! So let us pray that through this experience we will become a more synodal Church, characterized by communion, participation and mission as we journey together reflecting on what God is asking of us today."
---
---
Resources
To learn more about the Synod on Synodality, visit the resources below.
Diocese of Little Rock Report
Region X Report
U.S. National Report
Arkansas Catholic Series
Arkansas Catholic published this four-part series on groups of Catholics the Church is striving to listen to during the Synod on Synodality. These include: Hispanic Catholics; LGBTQ Christians; Divorced Catholics; and Catholic Teens.
Letter from Bishop Anthony B. Taylor
Opening Mass Homily from Bishop Taylor
Adsumus, Sancte Spiritus Prayer
Synod Website
Synod Facebook Page
Synod Instagram Page