Synod On Synodality 2021-23
Journeying Together: Communion, Participation, Mission
Diocese of Little Rock Listening Phase
#ListeningChurch
In September 2021, Pope Francis invited Catholics worldwide to take part in the Synod on Synodality, a two-year process of discussion and reflection in preparation for a meeting of the Synod of Bishops to take place in October 2023. This process begins with a diocesan phase followed by a national phase, regional phase concluding with the meeting in Rome. | Español | Parish Toolkit. | What is Synodality? | Arkansas Catholic Series
The Diocese of Little Rock began its diocesan phase with a Mass Sunday, Oct. 17, 2021, at the Cathedral of St. Andrew in Little Rock. Our diocesan theme is: "Journeying Together: Communion, Participation and Mission." Synod is Greek for "walking together on the same path." A synod is a process in which the Church discerns a particular issue. Since becoming pontiff, Pope Francis has held synods on the family (2014), youth (2018) and the Pan-Amazon region (2019).
In his homily at the Cathedral, Bishop Anthony B. Taylor explained the three touchstones of the process:
Communion — unity amid diversity, which finds its deepest roots in the love and unity of the Blessed Trinity.
Participation — builds on communion and seeks the involvement of everyone in this process of deep, respectful listening to each other.
Mission — Then once we have a shared sense of direction, the Holy Spirit leads us forth to share the love of God with the whole human family, and especially "those who live on the spiritual, social, economic, political, geographical and existential peripheries of our world."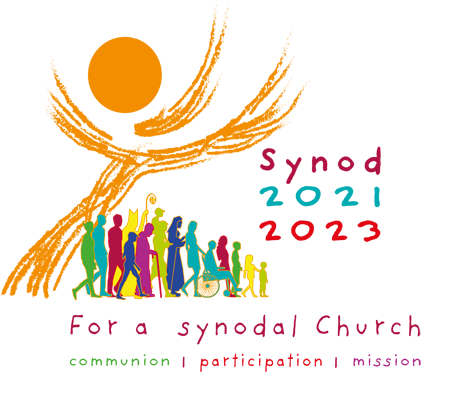 Pope Francis asked every diocese to hold listening sessions with a special focus on people who are marginalized in the Church and community. Bishop Taylor appointed Sister Mickey Espinoza, MCP, director of the Hispanic Ministry Office, and Liz Tingquist, director of the Catholic Campus Ministry and Catholic Youth Ministry offices, to lead the process in our diocese.
"Synodality requires that we really try to include those who feel excluded. Who would those people be in today's world? How about those who lack legal status in our country? Or elderly people abandoned in our nursing homes? How about people living in crime-ridden ghetto neighborhoods?" the bishop said in his homily.
"Who would the people be who feel excluded in today's Church? How about people who experience same-sex attraction? Or people who live together outside of marriage? How about those who feel wounded by something someone from the Church said or did in the past? How can we journey with people who, for whatever reason, feel pushed to the periphery in the Church and in society? There's a lot to learn from each other." | Read homily | Share Your Experience
Each parish or deanery in the Diocese of Little Rock, led by a synod representative or team trained on how to conduct the process, will hold discussions through April 2022. They will then compile a report and turn it into the diocese. The diocesan team will summarize the parish reports into a 10-page document for the U.S. Conference of Catholic Bishops. The USCCB will then write a report to the Vatican for the synod's general assembly in October 2023.
"Truth is horizontal as well as vertical, and it takes humility to listen, to truly listen to the lived experience of those whose perspective on things is very different from our own," the bishop said in his homily. "And yet the Holy Spirit is there as well — he's everywhere! So let us pray that through this experience we will become a more synodal Church, characterized by communion, participation and mission as we journey together reflecting on what God is asking of us today."
---
---
Parish Synod Toolkit
The following resources have been made available to assist parishes in their participation in the synod process. They are both Vatican and Diocese of Little Rock resources. Please review the brand manual before creating communication materials using the logo. For additional information, visit the synod website. | Leer en español.
Letter from Bishop Anthony B. Taylor
Opening Mass Homily from Bishop Taylor
Vatican Official Handbook
Vatican Preparatory Document
English (PDF) | Spanish (PDF)
English (Audio) | Spanish (Audio)
Script for Training the Facilitators
English (PDF) | Spanish (PDF) | Vietnamese (PDF)
Consultation Script for Listening Sessions
English (PDF) | Spanish (PDF) | Vietnamese (PDF)
Listening Session Handout for Participants
English (PDF) | Spanish (PDF) | Vietnamese (PDF)
Parish Synodal Report
English/Spanish (Word) | English/Spanish (PDF)
Online Parish Synodal Report
Logo in English
Color (jpeg) | Color (PDF) | Color (png)
Logo in Spanish
Color (jpeg) | Color (PDF) | Color (png)
Social Media Hashtag
#ListeningChurch
Social Media Toolkit
English (PDF)
Adsumus, Sancte Spiritus Prayer
Synod Facebook Page
Synod Instagram Page
Share Your Experience
If you are not a member of a Catholic parish in Arkansas, or if you were unable to participate in a listening session at your parish, we still want to hear from you. Please complete the online form below to let us know what your experience of the Catholic Church has been.
Online Individual Response Form