Letters from Seminary: Hartnedy
God the Father can evoke positive and negative feelings
Published: October 8, 2022
By Dc. John Paul Hartnedy
Diocesan Seminarian
We seminarians carpool to class because the theology school is across town from Assumption Seminary. In addition to giving us 20 minutes to jam out to music, it's also a great time to laugh together, build friendships and have meaningful conversations.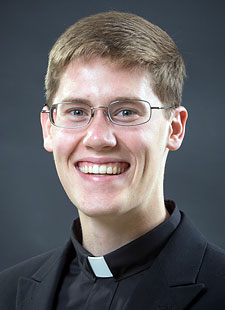 We were driving back from our Trinity class one day, and one of the guys asked: "Why is it meaningful to speak of God as Father?" We had just been discussing different ways of talking about God through analogies, metaphors and comparisons. For example, to say "God is a rock" conveys some truth about who God is: his strength and stability throughout time.
However, of course, it falls way short of being able to fully explain who God is. No words can totally grasp the nature of God, but some provide deeper insight than others.
Both the presence and absence of paternal love in our lives, I think, point to an innate sense within us that recognizes a need for a Father.
So what about God as Father? We dove right in. As with all analogies, we started from our experience. The word "father" carries a lot of meaning, both positive and negative. All of us could think of countless examples of affirming, masculine love we experienced through a man who was an earthly father to us.
Through these, we can glimpse in a limited way, something of what God's fatherly love for us is like. Conversely, we all could list times where that paternal love was absent, or poorly represented. In these cases, our desire to be loved into our best possible selves was not being fulfilled, and the ache for completion remained. Both the presence and absence of paternal love in our lives, I think, point to an innate sense within us that recognizes a need for a Father.
So, what does it mean to say "God is Father"? A father is the one who calls out in me the very best of myself, helps me to become that person and loves me every step of the way. While this is not meant to be a philosophical definition, it seems to get to the heart of what Jesus intends every time he calls God "Father." Father conveys closeness; it speaks of the intimate relationship of a family. This type of love God has for us is central to the good news Jesus came to preach. Just think of the parable of the Prodigal Son in Luke's Gospel, for example.
From the Scriptures, it is also clear that "Father" also suggests accountability: one whose active love will call out action in response. I think we can find this rings true in our experience of earthly paternal love too. There is a special gift fathers have to call out virtue, obedience and active love from their children. Fatherly love sets expectations, calling the ones he loves to continual growth and new life.
Certainly mature, human love would possess both maternal and paternal aspects, but it was invigorating to spend those 20 minutes driving back from class wrestling with paternal love and what it means to speak of God as Father. As I near priestly ordination, it also leads me to reflect and pray that I may live out my priestly fatherhood in a way that reveals, rather than obscures, the fatherhood of God.
Dc. John Paul Hartnedy, a member of St. Edward Church in Little Rock, is a diocesan seminarian attending Assumption Seminary in San Antonio, Texas. This article was originally published in Arkansas Catholic. Copyright Diocese of Little Rock. All rights reserved. This article may be copied or redistributed with acknowledgement and permission of the publisher.