III Theology
Dc. John Paul Hartnedy, St. Edward Church, Little Rock
Attends Assumption Seminary in San Antonio, Texas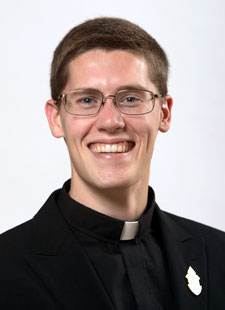 Discerning the priesthood for me has been a gradual process of trusting God. From an early age, I remember admiring the priest at my home parish and wanting to do what he did. That desire was strengthened at my first holy Communion and my family's example of prayer.
They taught me how to love and be loved, nurture a relationship with God, and grow in living my faith. The foundation I received from my family enabled me to be open to discerning a call to the priesthood, even in the face of fear, doubts and the unknown.
In high school, I began to actively discern the priesthood, praying about whether God was calling me to enter seminary after I graduated. I was open with my parents about this, and also sought the insight of a priest, a teacher and a few close friends. I wrestled with uncertainty and fears, and worried what the best decision would be.
What helped me immensely then (and even now), was that I began spending regular time in silent prayer most days. With this habit, I learned to trust God with myself; all of my fears, hopes, pains, joys and experiences. While I still lacked clarity regarding my discernment, I was given a deepening friendship with Christ.
I did enter seminary after high school, trusting that the small but consistent indications of God's action in my life were guiding me in that direction. I have since spent six years in formation, and have two remaining. The process of discernment continues, but over time it has deepened.
In priestly discernment and in all vocations, prayer is central: spending daily time with the God who loves us most. Prayer focuses the day, prioritizes responsibilities, works through pain and grief, brings peace and enables me to love myself and others a little more fully.
Additionally, part of discernment is learning how God has created me to love and what brings me lasting joy. In this sense, vocations are unique from careers or jobs in that vocations speak not only about what I do, but also who I am; my core purpose in life, how I love best, and what fully satisfies me.
Discernment, therefore, is essential. In the seminary, I'm continuing to learn that love and transformation go together. God calls me as I am, but he loves me too much to leave me as I am. Through encountering God in prayer and in ministry with others these past six years, I've found fulfillment and joy that are consistent, even on the challenging days.
As I near ordination, I continue to thank God for the support and guidance he has provided me through many people, and ask that he continue making my heart like his to love and serve faithfully as he desires.
If you wish to contact Dc. John Paul Hartnedy, please e-mail Georgina Pena in the Vocations Office or call her at (501) 664-0340. This article was published Oct. 11, 2021. Copyright Diocese of Little Rock. All rights reserved. This article may be copied or redistributed with acknowledgement and permission of the publisher.