Dc. Martín Amaro to be ordained May 11
Published: May 3, 2019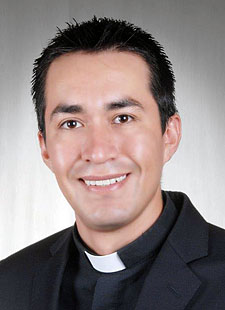 Bishop Anthony B. Taylor will ordain Deacon Martín Alejandro Amaro Rodriguez to the priesthood at 3 p.m. on Saturday, May 11 in the Choir Chapel at St. Peter Basilica in Rome. He recently completed his studies for the priesthood at the Pontifical North American College in Rome, the seminary for American students at the Vatican. He was ordained to the transitional diaconate in Rome last September.
Amaro, 27, will celebrate his first Mass at the Basilica of St. Mary of the Altar of Heaven in Rome on May 12. After he returns to the United States, he will be the associate pastor of Immaculate Conception Church and chaplain of Trinity Junior High School, both in Fort Smith. Amaro is a native of Guanajuato, Mexico and is the oldest of six children to Martin and Graciela Amaro. His family moved to the United States when he was 10.
"I've learned so many things from our pope, but one of the most significant is his constant invitation for all the people, but especially the ordained ministers like myself to always go in search of the people of God instead of waiting for the people to come to us," Amaro told Arkansas Catholic about his formation in Rome. "I often pray to God to help me in my future ministry and that wherever I am sent, I do good and be a good pastor to the people of God."
If you or someone you know is considering a vocation to the priesthood, contact Msgr. Scott Friend, vocations director, at (501) 664-0340. For more information, contact the Vocations and Seminarians Office.