Martín Amaro ordained a deacon in Rome
Published: October 3, 2018
Diocese of Little Rock seminarian Martín Amaro was one of 40 men ordained to the transitional diaconate by Cardinal Daniel DiNardo, archbishop of Galveston-Houston and president of the U.S. Conference of Catholic Bishops, on Sept. 27 at St. Peter Basilica at the Vatican. He served his first Mass as a deacon on Sept. 28 at the basilica. Archbishop Jorge Carlos Patron Wong of Mexico, who is in charge of seminarian formation at the Vatican, was the celebrant.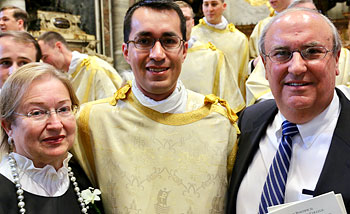 Amaro, 26, is studying at the Pontifical North American College in Rome, the seminary for American students at the Vatican. Being ordained a transitional deacon is a major step toward priestly ordination. He is scheduled to be ordained a priest in 2019. He is the son of Martin and Maria Graciela Amaro of Lonoke.
Arkansans who attended the diaconate ordination were: Msgr. Scott Friend, VG, diocesan vocations director, Father Martin Siebold, associate pastor of St. Vincent de Paul Church in Rogers, Father Jeff Hebert, associate pastor of St. Joseph Church in Conway and Mark and Catherine Johnson, parishioners of the Cathedral of St. Andrew in Little Rock.
Arkansas Catholic interviewed Amaro after his ordination. In the article he reflected on his formation and discernment of the priesthood. "I can't wait to help people be closer to God," he wrote in an e-mail interview. "I often pray to God to help me in my future ministry and that wherever I am sent, I do good and be a good pastor to the people of God." Read this story, or read or watch Amaro's vocation story in English or Spanish. For more information, contact the Vocations and Seminarians Office at (501) 664-0340.