Blessed Sacrament Church - Jonesboro
Mass Schedule
| | |
| --- | --- |
| Sat. | Vigil 5:30 p.m. (St. Bernards Medical Center Auditorium) |
| Sun. | English 8 a.m., 10 a.m.; Spanish noon (St. Bernards Medical Center Auditorium) |
| Mon. | 7 a.m. (Blessed John Newman University Parish) |
| Wed. | 12:10 p.m., 5:30 p.m. (Blessed John Newman University Parish) |
| Thu. | 7 a.m. (Blessed John Newman University Parish), 9 a.m. (during school year at Blessed Sacrament School) |
| Fri. | 7 a.m. |
| Sat. | 8 a.m. (First Sat.) (St. Bernards Medical Center Auditorium) |
| Holy Days | As announced |
Confession
Sat. 4 p.m. or by appointment (St. Bernards Medical Center Auditorium)
Adoration
| | |
| --- | --- |
| Mon. | 7:30 a.m. - 5:30 p.m. (Blessed John Newman University Parish) |
| Tues. | 7:30 a.m. - 5:30 p.m. (Blessed John Newman University Parish) |
| Wed. | 7:30 a.m. - 5:30 p.m. (Blessed John Newman University Parish) |
| Thu. | 7:30 a.m. - 5:30 p.m. (Blessed John Newman University Parish) |
| Fri. | 7:30 a.m. - 5:30 p.m. (Blessed John Newman University Parish) |
Contact Inez Ray at (870) 273-6535 for more information.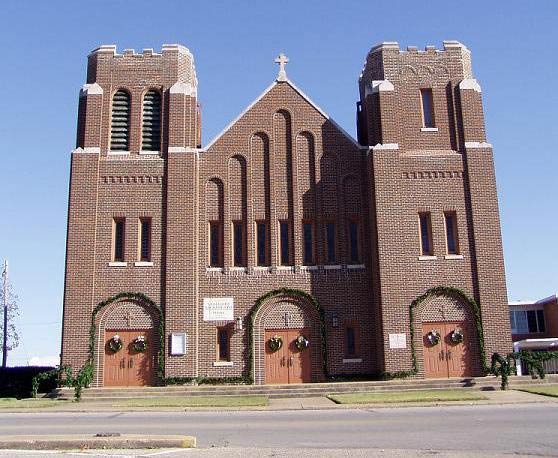 Blessed Sacrament Church
Jonesboro (Craighead County) - North Delta Deanery
Location:
1107 E. Highland Drive (church office)
Jonesboro AR 72401
Mailing Address:
P. O. Box 1735
Jonesboro AR 72403-1735
Also Attends
Blessed John Newman University Parish - Jonesboro
---
Office Hours: Mon. - Fri. 8 a.m. - 4 p.m.
UPS packages should be mailed/delivered to Blessed Sacrament School, which is the location of the church office.
---
(870) 932-2529
(870) 935-4444
www.catholicjonesboro.com
office@catholicjonesboro.com
---
A new church is currently being built for this parish. The anticipated completion date is September 2018. During construction, weekday Masses and adoration of the Blessed Sacrament will be held at Blessed John Newman University Parish. All weekday school Masses will be held at Blessed Sacrament School. The sacrament of reconciliation (confession) and weekend Masses will be held in the auditorium at St. Bernards Medical Center located at 505 East Washington Ave in Jonesboro. For the most current information, visit the parish website.
Se está construyendo una nueva iglesia para esta parroquia. La fecha anticipada para terminarla es septiembre 2018. Durante la construcción, las Misas entre semana y la adoración del Santísimo Sacramento se llevarán a cabo en la Parroquia Universitaria de Beato John Newman. Todas las Misas escolares entre semana se llevarán a cabo en la Escuela del Santísimo Sacramento. El sacramento de la reconciliación (confesión) y las Misas del fin de semana se llevarán a cabo en el auditorio del Centro Médico San Bernardo ubicado en 505 East Washington Avenue en Jonesboro. Para ver la información más actualizada, visite el sitio Web de la parroquia.
---
PreK3 - 6th Grade: Blessed Sacrament School
Pastor
:
Fr. Alphonse Gollapalli
Associate Pastor
:
Fr. Chandra Kodavatikanti
Deacon
:
Dc. Ramón Ramírez
Business Manager: John Street
Bookkeeper: Molli Beaverstock
Administrative Assistant: Nancy M. DePriest
Hispanic Ministry: Vacant
Music Director: Carol Windle
Director of Children and Youth Ministries: Cindy Cole
Associate Director of Children and Youth Ministries: Ann Vazquez
RCIA Coordinator: Jim McDonald