Deacon Candidate — Class of 2022
Martin J. Huss, Blessed Sacrament, Jonesboro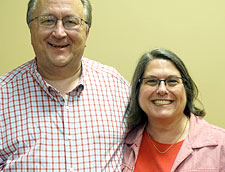 Why do you want to be a deacon?
Out of love for God, I hope to act as a bridge between the Church and the community to help meet the needs of others under the guidance of the Holy Spirit and at the direction of the bishop. I want to become a permanent deacon so that I can cooperate sacramentally in the servant mysteries of Christ. Through a life of prayer, proclaiming the Gospel and administering the sacraments appropriate to the diaconate, I desire to be of service to God and his people.
Married To: Betsy Wiederkehr Huss
Profession: Associate professor of botany, Arkansas State University, Jonesboro
Interests and Hobbies: Mushroom hunting/mycology, taking nature walks, plant conservation, reading science fiction and mystery novels, writing, prison ministry and learning new things.