2024 — I Theology
Cody Eveld, Sacred Heart Church, Charleston
Attends Assumption Seminary in San Antonio, Texas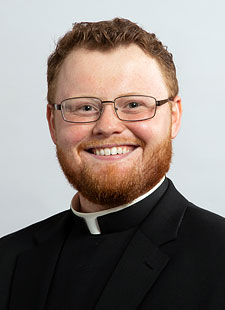 Throughout my life, any time I had a thought about becoming a priest it probably lasted no longer than about 30 seconds. I always thought that I would graduate college, go to law school, become an attorney and one day get married and have kids. My thoughts on becoming a priest all changed when I attended a church camp in the summer of 2017.
We were having adoration and I fell asleep. I'm not sure how much time passed but all of a sudden I woke up and was flooded with all these thoughts about becoming a priest. Suddenly everything was falling into place, the more I thought about it the more it all made sense. That night I was so joyful; I believe my heart was overpowered by God and the Holy Spirit.
The next week two seminarians at the time, John Marconi and Joe Friend, happened to be at my parish for summer evangelization. Joe called his uncle, Msgr. Scott Friend, a day or two after, and we set up a meeting for that weekend to converse about my discernment to the priesthood. It has now been two years since that first conversation with Msgr. Friend and I have grown more than I could have ever imagined in that period.
I can remember my first semester in the seminary being tough for me, grade-wise, but Msgr. encouraged me to do the best that I could. Since then I have realized that nothing in my life functions correctly if I am not spending time with the Lord. That first semester in the seminary taught me a very important lesson: That my spirituality is not just a part of my life but it is rather the hub that holds everything together. This realization has helped me to grow in my faith more than I could have ever imagined and as a result has enhanced the other aspects of my life.
Another important part of my story is the time I was fortunate enough to have in Cuernavaca (city south of Mexico City). There my family taught me lessons I will never forget. One that I would like to share was taught by one of my sisters. One day I was saying how much I was going to miss Mexico when I left because the family life there is so incredibly strong. I realized that after just a couple of weeks I already felt like part of the family.
My sister told me to imagine what it must be like for the people who emigrate from Mexico to the U.S. She pointed out that for many it is out of necessity. She said that is why she thinks it is so important for us to learn the culture to be able to make those who are here out of necessity feel at home. This conversation had a huge impact on me and it is something I will never forget as I continue to serve for the Diocese of Little Rock.
I recently finished my last year of college seminary and am incredibly grateful for the blessing of having experienced this environment and for the intentional formation provided to me by not only the vocation team, but also by the people of the diocese. Throughout this time of Covid-19, I have come to know myself more fully as a person and I can see where the Lord has led me in a time unlike any I have experienced. The Lord has shown me, especially throughout this semester, many attachments that have kept me from loving the people of God with all my heart.
I look forward to continuing this journey of discovering how I can serve the people of God with my whole heart in theology in the coming years. I believe that the Lord has not only placed the people in my life, but has also allowed me to be molded, by those that have been so instrumental to my formation. The philosophical studies have only further added to my molding by providing me with a strong foundation of thought which is necessary when I begin formation in a graduate school environment.
I have learned many lessons in my short time in the seminary and I would just like to ask for your continued prayers and I extend my most sincere gratitude.
If you wish to contact Cody Eveld, please e-mail Maria Izquierdo-Roque in the Vocations Office or call her at (501) 664-0340. This article was published July 1, 2020. Copyright Diocese of Little Rock. All rights reserved. This article may be copied or redistributed with acknowledgement and permission of the publisher.