Respect life to be integrated in all we do
Published: September 30, 2019
"Together we may offer this world of ours new signs of hope, and work to ensure that justice and solidarity will increase and that a new culture of human life will be affirmed, for the building of an authentic civilization of truth and love." — St. John Paul II, "Evangelium Vitae" ("The Gospel of Life")
The Catholic Church in the United States celebrates Respect Life Month each October to proclaim the immeasurable value of every person from conception to natural death. Catholics in Arkansas take part in events throughout the month, including Life Chain and 40 Days for Life, to put their faith into prayer and action.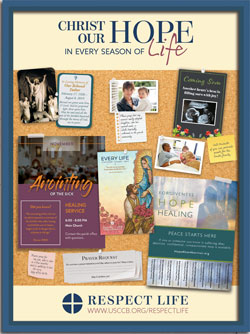 In addition, the U.S. Conference of Catholic Bishops (USCCB) assists parishes, schools and other ministries in helping Catholics understand, value and become engaged with building a culture that cherishes every human life through its annual Respect Life Program, which is a year-round, nationwide effort that kicks off each year on Respect Life Sunday. This year, that is Oct. 6.
The theme for the 2019-20 Respect Life Program is "Christ Our Hope: In Every Season of Life." Archbishop Joseph Naumann, chairman of the U.S. bishops' Committee on Pro-Life Activities, said this theme is "particularly suited for our times," in his Sept. 26 statement on Respect Life Month.
"While attacks against human life seem to grow ever more numerous and callous, we know that Christ has conquered sin and death. Through our Christian hope in the resurrection, we are given the grace to persevere in faith," he added.
This theme also aims to make clear that the "Gospel of Life is part of the very fabric of the Gospel itself." The "ready-to-go" resources provided by the USCCB are designed to complement and be easily integrated into the life of a parish, school or ministry. "Five new action guides have been developed to help leaders take advantage of opportunities to highlight and integrate respect life themes throughout the year. Liturgical celebrations and other annual calendar occasions provide natural opportunities to help build a culture of life." These guides are structured around the following events:
For more information about integrating the Respect Life Program into your parish, school or ministry, contact Catherine Phillips, director of the diocesan Respect Life Office, at (501) 664-0340, ext. 326.
---