Merciful like the Father is a lifetime calling
Published: December 10, 2016
This is the 13th column in a 13-part series.
By Clifford Yeary
Associate Director, Little Rock Scripture Study
Last month, the special Year of Mercy proclaimed by Pope Francis came to a close. The theme for the Year of Mercy was be "Merciful like the Father." Hopefully, you can recall some definite way the Year of Mercy influenced you. Perhaps it called forth a greater mindfulness of how God freely showers you with merciful love, or, more concretely, how the focus on God's mercy led you to engage in specific acts of mercy toward others.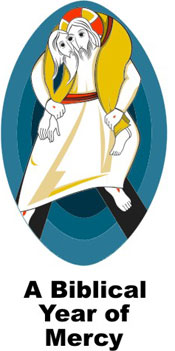 The theme for this special year was drawn from the Gospel of Luke. There, Jesus' words remind us that the challenge to be signs of God's merciful love is timeless. There is no calendar date to draw our obligation to be merciful to a close: "Be merciful, just as your Father is merciful" (Luke 6:36 NRSV).
In some ways, I prefer the New Jerusalem Bible's translation of Luke 6:36. "Be compassionate just as your Father is compassionate." It lacks the word mercy, and chooses to use "compassionate" instead. Understanding mercy as compassion helps relieve us of an understanding of mercy that has a sharp edge of judgmentalism.
When we hear the word mercy there is often at the back of our minds the pleas of a criminal who throws himself on the mercy of the court. Mercy, then, is what is begged from a judge who knows well our guilt and can never completely dismiss it.
When we think of mercy as compassion, however, it seems more likely that whoever is looking at us — acting toward us — with compassion is someone who knows well our situation, who has perhaps even experienced our hurt and our need.
This is the compassion the author of the letter to the Hebrews (4:15) reminds us that we find in Christ: "For we do not have a high priest who is unable to sympathize with our weaknesses, but one who has similarly been tested in every way, yet without sin."
Jesus challenges us to be compassionate like the Father, and Jesus is the compassion the Father shows us. Are we sinners? Yes! But God's compassion for us is the compassion of a father who, for whatever fault he sees in his child, cannot ignore the needs of his child.
This is at the heart of Jesus' parable of the prodigal son (Luke 15:11-32). God's mercy is not just a decision to suspend judgment; it is an act of love that holds us in God's embrace despite all our attempts to be something other than lovable.
God always finds us lovable, and when we accept God's compassionate, merciful love, it transforms us, revealing even to ourselves our new nature as God's adopted children. As Paul says in 2nd Corinthians: "(W)hoever is in Christ is a new creation: the old things have passed away; behold, new things have come" (5:17).
Being recipients of God's compassionate love we are freed to make mercy the motivating force behind our relationship with others — with all others. In that way we are also assured of God's continued mercy. "Blessed are the merciful, for they will be shown mercy" (Matthew 5:7). Father Frank Matera summarizes this beatitude by saying that, "Those who are merciful are those who know that God is merciful, and so they are merciful to others."
In Matthew 18:21-35, the parable of the unforgiving servant, Jesus dramatically warns against any possibility of thinking we can accept God's mercy and fail to be merciful to others in return. A servant who was forgiven a huge debt but shows no mercy to a fellow servant who owed him only a little ends up being handed over to torturers until he repays the debt that had once been forgiven him.
Our yearlong focus on mercy was a gift meant to reawaken our awareness God's love for us and God's call for us to be signs of God's love to our neighbors, which the parable of the good Samaritan (Luke 10:25-37) reveals are also the ones we had thought were foreigners or even enemies.
In Matthew 5:48, Jesus tells his disciples to "be perfect, just as your heavenly Father is perfect." That is not quite the impossible call it might seem. Becoming perfect like God means we are to be whole, or complete in our Christian calling, by reflecting God's love in the world. Just as God has mercy on all, we are to give ourselves wholly to God's mercy by extending mercy to all.
Study Questions
How has the Church's focus on mercy this past year (November 2015 to November 2016) influenced your prayers and/or actions?
Which parable or deed of Jesus helps you to best appreciate God's merciful love?
Describe a time when you witnessed or received an act of human compassion.
Going forward, how can you live your daily life with a greater commitment to God's merciful love?
This article was originally published in Arkansas Catholic Dec. 10, 2016. Copyright Diocese of Little Rock. All rights reserved. This article may be copied or redistributed with acknowledgement and permission of the publisher.