God's mercy extends beyond forgiveness
Published: February 13, 2016
This is the third column in a 13-part series.
By Clifford Yeary
Associate Director, Little Rock Scripture Study
There is a canticle, the Exsultet, that is sung near the beginning of the Easter Vigil Mass. It contains verses that seem to rejoice in sin, and in particular, original sin.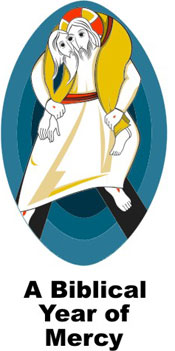 There is irony in this on several levels, not least of which is that it occurs during the celebration of this particular Mass that adults and older children who have extensively prepared for baptism will profess their faith in Christ and receive the sacrament that removes original sin and brings God's thorough forgiveness for any sins they may have committed in their lives.
The verses, originally in Latin, are typically translated into English as, "O truly necessary sin of Adam" and, "O happy fault." What happens in baptism is our own personal reception of God's mercy, poured into us through Christ's death and resurrection.
Many good theologians speculate that even if sin had never entered the world, Christ would have still come for us, so that we might share in the glory of the incarnation.
No one, however, suggests that without us having been separated from God by sin, would Jesus have paid so great a price to bring us back into God's divine life.
The question is moot, however, because of the universal fact of sin. Jesus came into the world and the world, trapped in the blindness of sin, would not, could not, recognize him as the Son of God and so put him to death.
The fuller text of the Exsultet verses reveals God's ultimate response to our sinfulness:
"O truly necessary sin of Adam
destroyed completely
by the death of Christ!
O happy fault
that earned so great, so glorious a Redeemer!"
Had we never known our separation from God in original sin, if we had never recognized our own sinfulness, we would never know the joy of accepting God's mercy. This mercy is poured over us sacramentally in the waters of baptism because of Christ's willingness to undergo his tortuous death on the cross, a death that also flowered into the resurrection, bringing us the gift of eternal life.
Even after receiving this greatest of gifts there is a sadness to come, however, because in spite of it, we do return, to one degree or another, to sin. God's answer to our sins that follow the mercy given to us in baptism is also a matter of joy for us, for once again, even over and over again, God will respond with mercy.
Because Christ not only died for us, but rose from the dead and ascended to the Father, he continues to intercede for us, bringing mercy and forgiveness over and over to those who seek it.
There are two particular places in the New Testament where this is clearly stated. In First John 2:1-2, an early Christian church is given special assurance in regard to sins: "My children, I am writing this to you so that you may not commit sin. But if anyone does sin, we have an advocate with the Father, Jesus Christ the righteous one. He is expiation for our sins, and not for our sins only but for those of the whole world."
Christ's advocacy for us in heaven is described in Hebrews 4:14-16 as the perfect offering on our behalf of the ultimate high priest:
"Therefore, since we have a great high priest who has passed through the heavens, Jesus, the Son of God, let us hold fast to our confession. For we do not have a high priest who is unable to sympathize with our weaknesses, but one who has similarly been tested in every way, yet without sin. So let us confidently approach the throne of grace to receive mercy and to find grace for timely help."
As Catholics we know Jesus' continued mercy is available to us sacramentally in the confessional. In its context within Hebrews, however, this passage assures us that Christ extends his mercy to strengthen us to meet any challenge to our desire to live faithfully.
God's mercy is more than just the forgiveness of our sins. Because Jesus has experienced our weaknesses in the travails of life, we are to turn to Christ for help in any weakness, any need and any pain. Mercy isn't just for our sins. It's for any struggle we have meeting the challenges of life.
Study Questions
When and where were you baptized? Who are/were your godparents?

What opportunities does your parish provide for assisting older children and adults in preparation for baptism?

Why is it possible for Christians to rejoice in the realization of our sinfulness?

Beyond the experience of forgiveness, how has God's mercy touched your life?
This article was originally published in Arkansas Catholic Feb. 13, 2016. Copyright Diocese of Little Rock. All rights reserved. This article may be copied or redistributed with acknowledgement and permission of the publisher.