Holy Thursday: Come, stay awake for Jesus
Published: March 27, 2023
"So when he had washed their feet and put his garments back on and reclined at table again, he said to them, 'Do you realize what I have done for you? You call me 'teacher' and 'master,' and rightly so, for indeed I am. If I, therefore, the master and teacher, have washed your feet, you ought to wash one another's feet. I have given you a model to follow, so that as I have done for you, you should also do.'" — John 13:12-15
During the Mass of the Lord's Supper, we mark the institution of the Eucharist and priesthood and re-enact the washing of feet. This Holy Thursday evening liturgy brings Lent to a close and begins the celebration of the Easter Triduum. Holy Thursday is traditionally known as Maundy Thursday. The word, "maundy," comes from the Latin, "mandatum" and means "commandment" or "mandate." During the Last Supper, Jesus commanded the disciples to: "Do this in remembrance of me," (1 Corinthians 11:24) referring to the celebration of the Eucharist and "love one another," (John 13:34), which he demonstrated through the washing of the feet.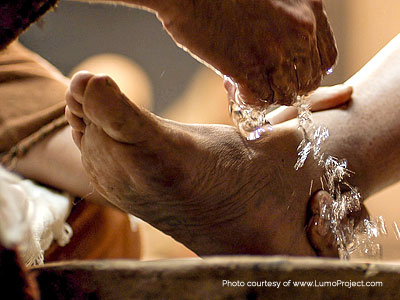 Why did Jesus do this? The Catechism of the Catholic Church explains: "Knowing that the hour had come to leave this world and return to the Father, in the course of a meal he washed their feet and gave them the commandment of love. In order to leave them a pledge of this love, in order never to depart from his own and to make them sharers in his Passover, he instituted the Eucharist as the memorial of his death and resurrection, and commanded his apostles to celebrate it until his return; 'thereby he constituted them priests of the New Testament.'" (no. 1337)
Because Mass is not celebrated on Good Friday, extra consecrated Hosts are reserved after Communion for the Good Friday service. These hosts are carried in a solemn procession for reservation in the tabernacle. During the procession, Tantum Ergo Sacramentum or another eucharistic song is sung.
Recalling Jesus' request of his disciples to stay awake and pray in the Garden of Gethsemane before his arrest (Luke 22:39-46), parishioners are invited to stay and pray before the Blessed Sacrament. Like the angel who appeared to Jesus, we have the opportunity to comfort Jesus in his agony as he prepares himself for what is to come, the suffering he will endure for our sake. The Mass concludes quietly as the altar is stripped in preparation for Good Friday.
Before Mass, consider visiting area churches to say a prayer. Traditionally, Catholics visited churches to pray on Holy Thursday. This evolved from the practice of Christian pilgrimages to the holy sites where Jesus lived, preached and experienced his passion, death and resurrection.
A special collection to support seminarian education is taken up in all parishes in Arkansas on Holy Thursday. Look for the envelope in your parish or donate online. All donations to the collection go to pay for the immediate education and housing expenses for diocesan seminarians. This special collection was established in 2009 to help pay for the increased cost of seminarian education, which is provided free of charge to all qualified students, regardless of income. For more information, contact Dianne Brady, diocesan director of the Stewardship and Development Office, at (501) 664-0340.
---