Give to retired religious fund on Dec. 4-5
Published: December 3, 2021
The annual Retirement Fund for Religious collection will be held Dec. 4-5 in the Diocese of Little Rock. Coordinated by the National Religious Retirement Office (NRRO), the appeal benefits thousands of elderly Catholic sisters, brothers and religious order priests whose religious congregations lack adequate retirement funding. Please give to those who have given a lifetime.
Last year, Catholics in the Diocese of Little Rock donated $126,641.47 to this collection, and two of our religious communities received financial support from the Retirement Fund for Religious. They were: Subiaco Abbey in Subiaco and the Carmel of St. Teresa of Jesus in Little Rock. Religious communities apply annually for financial support from the national collection, and distributions are sent to each eligible community's central house.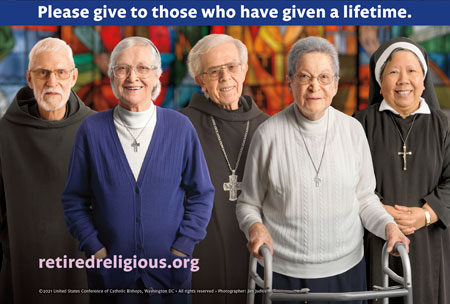 Across the U.S., generations of Catholics gratefully recall the ministry of religious in Catholic schools, hospitals, parishes and works of mercy. Yet these elderly religious worked for little to no pay all their lives. There were no 401(k) plans or pensions.
According to the NRRO, religious communities are financially responsible for the support and care of their members. Income, earnings and expenses are managed separately in parishes and diocesan structures of the Catholic Church. Only 5 percent of the religious communities reported adequately funded for retirement; 40 percent have 25 or fewer members. Many small communities struggle to care for elderly members because of a lack of financial resources and personnel.
There are 26,330 religious past age 70 living in the United States, according to the NRRO. In 2020, the average annual cost for their care was more than $49,000 per person; skilled care averaged $78,000 per person. The average annual Social Security benefit for a religious is $7,160, whereas the average U.S. beneficiary receives $18,530.
Since this national collection began in 1988, more than $786 million has been distributed to support the day-to-day care of elderly sisters, brothers and religious order priests. An additional $102 million has been allocated toward self-help projects initiated by religious communities, including collaborative health-care facilities. Proceeds from the annual appeal also underwrite educational programming, services and resources that enable religious communities to evaluate and prepare for long-term retirement needs.
---