Gaudete Sunday: Rejoice, the Lord is near
Published: December 11, 2020
"Rejoice in the Lord always. I shall say it again: rejoice! Your kindness should be known to all. The Lord is near. Have no anxiety at all, but in everything, by prayer and petition, with thanksgiving, make your requests known to God. Then the peace of God that surpasses all understanding will guard your hearts and minds in Christ Jesus." (Philippians 4:4-7)
These words offer great comfort and encouragement any time, but particularly in the year 2020. It has been a very long and difficult year and these words are a healing balm for our wounded hearts. Gaudete Sunday gives us this powerful message of hope on the third Sunday of Advent. "Gaudete" (pronounced gow-deh-tay) is Latin for "rejoice," which refers to the first word of the entrance antiphon. "Rejoice in the Lord always; again I say, rejoice! Indeed, the Lord is near." (paraphrase, Philippians 4:4-5).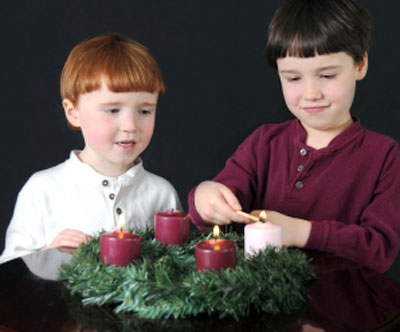 The word "advent" originates from the Latin "adventus" which means coming. As the four weeks of Advent progress, so does the anticipation. On Gaudete Sunday, the celebrant wears rose vestments to signify joy, that the waiting is half over and Christmas is near. Gaudete Sunday's counterpart in Lent is Laetare Sunday, another break in penance to rejoice in hope as we approach Easter. During both days, the celebrant wears rose vestments.
Violet is the official color of Advent, because this season, like Lent, has a penitential tone because it is a time to be absolved of sin and be in the state of grace for Christmas, but "Gaudete Sunday offers a brief respite to focus on the uplifting, upcoming joyful celebration of the nativity." explained Father Michael Van Sloun in the Catholic Spirit.
It reminds us there are many reasons to be joyful. "There is joy in looking forward to the annual celebration of Christmas, but there is also joy in recalling the birth of Jesus on the first Christmas. The joy is heightened because he was born to save us from our sins (Matthew 1:21). The joy also extends to anticipation of the Second Coming, either at the end of physical life or the end of the world, the time when believers will be given the crown of righteousness (2 Timothy 4:8) and a place in the Father's house (John 14:2) to dwell with God and his angels and saints for all eternity."
The readings for the day bring this message home. In the first reading we hear: "The spirit of the Lord God is upon me, because the Lord has anointed me; he has sent me to bring glad tidings to the poor, to heal the brokenhearted, to proclaim liberty to the captives ..." The responsorial psalm gives us the Canticle of Mary: "My soul proclaims the greatness of the Lord; my spirit rejoices in God my Savior ..." The second reading tells us to: "Rejoice always. Pray without ceasing." And John the Baptist tells us we need to get ready and "make straight the way of the Lord."
---