Fifth One Church partner is IHM, Magnolia
Published: September 27, 2022
Click on the button above to donate online to the One Church: Unite Arkansas in Faith and Mission initiative that supports a small mission that needs a leg up to become a thriving community. For more information, contact Megan Moore in Catholic Charities of Arkansas at (501) 664-0340, ext. 379.
En Español
Each September a church in Arkansas is chosen to benefit from One Church: Unite Arkansas in Faith and Mission. This year's partner is Immaculate Heart of Mary Church in Magnolia, a small, but growing mission in southwest Arkansas, with one Mass in English and one in Spanish every Sunday, plus campus ministry for students attending nearby Southern Arkansas University.
According to Arkansas Catholic, when the church, rectory and parish hall were built in the late 1970s, no space for classrooms, meeting rooms or offices was included. Since then, parishioners have used the rectory and parish hall for temporary classrooms and offices. The church approved a two-phase plan to expand its parish hall with a conference room, two offices, enlarged kitchen and four classrooms. In phase one, the parish hall would become a ministries building, extending it about 1,000 square feet for the conference room and offices. It is estimated to cost at least $350,000.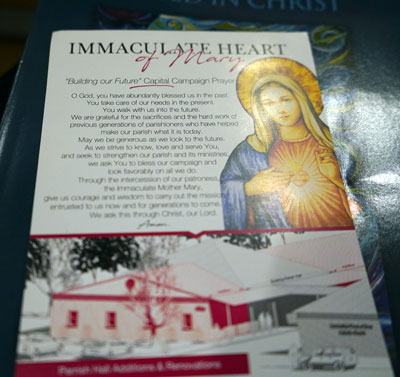 About 80 percent of the money is already pledged. Support from One Church could help the parish reach its goal sooner, helping it better serve children and college students. "The main reason we need the larger parish hall is we have a lot of kids," Father Mike Johns, pastor, told Arkansas Catholic. "We have a big first Communion class next year. ... Increasing the space will help us build for the future."
"Immaculate Heart of Mary Church has an inadequate parish center that needs to be upgraded and expanded," explained Bishop Anthony B. Taylor in his letter launching this year's program. "They have modest plans to enlarge it to serve their ministry needs, which include additional meeting space, offices and classrooms, new restrooms and improvements to their kitchen." To learn more, read his letter or this FAQ.
One Church: Unite Arkansas in Faith and Mission is a diocesan-wide effort to give a Catholic mission community a one-time boost to accomplish something it cannot do on its own. This initiative began in 2018 to help a mission church in Arkansas, for a 12-month period, meet a specific, financial goal to help the parish better serve its community.
The following parishes have already benefited from One Church: St. Andrew in Danville received $133,000 in 2022 to renovate its parish center; St. Bartholomew Church in Little Rock received $118,465 in 2021 toward building a new parish hall; St. Luke Church in Warren received $163,147 toward the cost of renovating a building to become its new church in 2020; and Holy Spirit Church in Hamburg received $67,950 to reduce its mortgage in 2019.
Families are invited to donate now by making an online gift or mailing a check to: Catholic Charities of Arkansas, 2500 N. Tyler St., Little Rock, AR 72207. Checks should be made payable to: "Diocese of Little Rock-One Church" with the notation "IHM, Magnolia." Parishes and Catholic groups that want to participate might find "Nine Ways to Raise Funds" helpful. Find additional resources in the One Church toolkit.