Add St. Nicholas Day to Advent traditions
Published: December 2, 2022
Advent is full of traditions that can make this wonderful season of anticipation lots of fun for kids. At the top of the list is the feast of St. Nicholas on Dec. 6. One of the most popular ways to celebrate St. Nicholas Day is to leave your shoes outside your bedroom door or on the fireplace hearth on the night of Dec. 5 along with a plate of carrots for St. Nicholas' horse. And sometime during the night, St. Nicholas will visit and leave gifts in your shoes.
What he gives may vary, but traditionally he gives gold coins or a candy cane to represent his crozier (staff carried by bishops to represent their role as shepherd). Parents, if you add a book about St. Nicholas, your kids can learn about a wonderful saint and role model and have a blast at the same time.
No kids in the house? You can still celebrate this feast day in a very meaningful way by following St. Nicholas' example and give to the poor. Catholic Charities of Arkansas offers you a great way to do this by becoming a St. Nicholas Partner. This annual Advent appeal raises money for the ministries of Catholic Charities, all of which provide services to the most poor and vulnerable among us in the Diocese of Little Rock.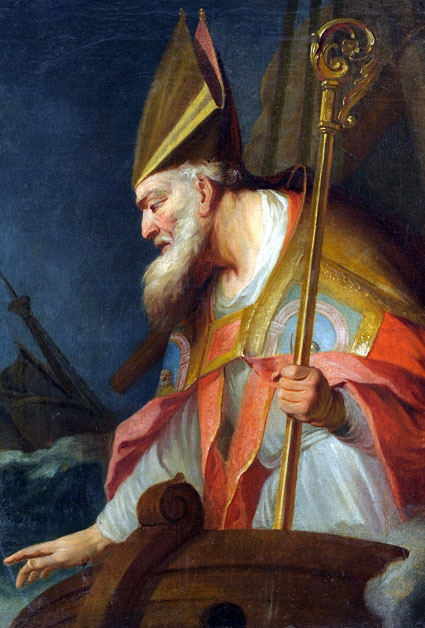 You may donate online or mail a check to: St. Nicholas Partners, Catholic Charities of Arkansas, P.O. Box 7239, Little Rock, AR 72217-7239. For more information, email Megan Moore, or call her at (501) 664-0340, ext. 379.
So, who was St. Nicholas? And where does the name "Santa Claus" come from? St. Nicholas was a fourth-century bishop of Myra, a city in what is now Turkey. According to Teaching Catholic Kids, he was born in the year 270 A.D. to wealthy parents who died during an epidemic when he was very young. He was raised by his uncle, also named Nicholas and a Catholic bishop. This uncle eventually ordained his nephew a priest.
The St. Nicholas Center, a website dedicated to the popular saint, explains that St. Nicholas took to heart Jesus' command to "sell what you have and give it to the poor" (Matthew 19:21). He gave his entire inheritance to those in need. He was imprisoned and exiled for his faith by the Roman Emperor Diocletian, and named bishop of Myra when he was still a young man. Bishop Nicholas is believed to have attended the Council of Nicaea in 325 before he died in 343.
St. Nicholas was immediately venerated as a saint after his death by the people of Myra. He known for his generosity to the poor, his love and protection of children and concern for sailors and ships. His popularity spread throughout Europe. Before the Protestant Reformation, there were more than 400 churches dedicated to St. Nicholas in England alone. He was named the patron of Greece, Russia, Sicily, the French province of Loraine, as well as many cities and towns, explained Simply Catholic.
Through the centuries many stories and legends have been told of St. Nicholas' life and deeds. The most popular tells of a widowed merchant whose business went bankrupt and he had three unmarried daughters he feared would be forced into prostitution to survive. Bishop Nicholas heard about the family's situation, and one night he walked to the merchant's house and tossed a bag of gold coins through an open window.
He repeated this the following night and on the third night, the family was waiting for him and when he threw the third bag of coins, they opened the door and rushed outside to thank the man who made it possible for all three daughters to have a respectable dowry in which the marry. This is the origin of the coins in shoes tradition we celebrate today.
If this is new to you, you are not alone. Devotion to St. Nicholas, the Catholic bishop and saint, never caught on in the United States like it did in Europe. The reason goes back to the publication of "A Visit from St. Nicholas," better known today as "'Twas the Night before Christmas," in 1823 by Clement Clarke Moore. During that time it was a popular trend for New Yorkers to reclaim their city's Dutch heritage. Taken with the legends of St. Nicholas, Moore and others blended them with Dutch folklore. The name "Santa Claus" comes from the Dutch form of his name, "Sinterklaas."
For more ideas about how to celebrate St. Nicholas Day, see "Ways to Celebrate St. Nicholas Day with Children," or "St. Nicholas for Young Children". For books and free craft ideas to help teach your children about St. Nicholas see "Saint Nicholas Printables for Children" or "How To Celebrate St. Nicholas Day; Ideas, Printables, and More."
---