Celebrate life, mourn those lost Jan. 19-27
Published: January 16, 2023
Procession, Mass and March for Life
Bishop Anthony B. Taylor will lead the Diocese of Little Rock in its annual Eucharistic Procession for Life and Mass for Life Sunday, Jan. 22 in Little Rock to celebrate the gift of life, the human dignity of every person and remember the millions of babies lost to abortion since the U.S. Supreme Court legalized it throughout the United States in 1973.
Last year, the Supreme Court overturned its Roe v. Wade decision, sending the issue of abortion back to the states. In 2019, Arkansas legislators passed a "trigger law," which would put forth a total ban on abortion if Roe v. Wade was overturned. So, when it was overturned, June 24, abortion became illegal in Arkansas the same day.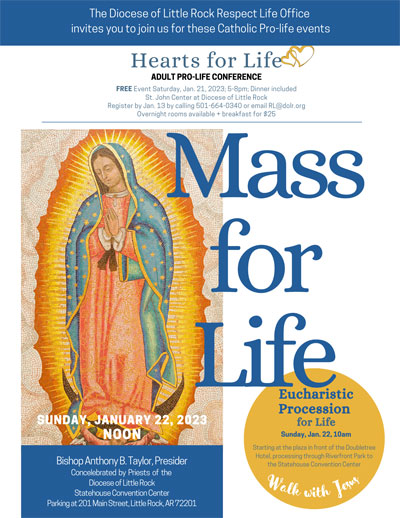 "We can give thanks to God for the fact that abortion is illegal in Arkansas, but also recognize what we need to do, how we need to support life in every stage, in every circumstance," said Catherine Phillips, director of the diocesan Respect Life Office to Arkansas Catholic. "This is the one opportunity that everyone in Arkansas, all Catholics and our guests, have to come together and give thanks to God for the gift of life, to celebrate life and to pray about how we can build a culture of life together." | Read this article.
All are invited to the Eucharistic Procession for Life, which begins at 10 a.m. in the plaza in front of the DoubleTree Hotel. Participants will walk with Jesus in the Blessed Sacrament in a procession through Riverfront Park to the Statehouse Convention Center where the Mass for Life will be celebrated at noon in the Wally Allen Ballroom. To learn more, please email Malleson Emmerling, in the Respect Life Office, or call her (501) 664-0340, ext. 326.
After the Mass for Life, the 45th annual March for Life, hosted by Arkansas Right to Life, will take place in downtown Little Rock at 2 p.m. This year the march will follow a longer route, beginning at Capitol Avenue and State Street and proceeding eight blocks to the Arkansas state Capitol. Abortion survivor Gianna Jessen will be the keynote speaker. For more information, contact Rose Mimms, director of Arkansas Right to Life, at (501) 663-4237 or artl@artl.org.
Hearts for Life, Weekend for Life
Adults are invited to attend the annual Hearts for Life Conference from 5 to 8 p.m. Saturday, Jan. 21 in Fitzgerald Hall on the campus of St. John Catholic Center. Jennifer Briselden, of Atlanta, will be the featured speaker. She is the former campus minister at the University of Arkansas Fort Smith and director of youth ministry at Christ the King Church in Fort Smith. Dinner is included with this free event, but advance registration required. If overnight accommodations are needed, rooms are available for $25, which includes breakfast. Register online or email Malleson Emmerling, in the Respect Life Office, or call her (501) 664-0340, ext. 326.
High school youth will attend the annual Weekend for Life Saturday, Jan. 21 to Sunday, Jan. 22 at the DoubleTree Hotel in Little Rock. This overnight event, which focuses on right-to-life issues from a youth perspective, will include a guest speaker, praise and worship music, prayer, skits and a dance on Saturday night. This year's speaker is Julia Holcomb, who will share her story about being the 16-year-old girlfriend of Aerosmith's Steven Tyler. On Sunday morning, the youth will join Catholics of all ages at the Eucharistic Procession for Life, Mass for Life and later the March for Life. Weekend for Life is sponsored by the diocesan Catholic Youth Ministry Office.
Virtual Ways to Proclaim Gospel of Life

For those unable to attend these events in person, there are four ways to proclaim the Gospel of Life virtually with Catholics across the nation.

Pray the Nine Days for Life novena from Jan. 19-27. The U.S. bishops' Committee on Pro-Life Activities sponsors this annual event, which focuses on prayer to respect and protect every human life with a different prayer intention each day in English or Spanish. Each petition is accompanied by a short reflection, list of suggested actions and related information. Subscribe to have these sent to you automatically via email or text, or follow this campaign on Facebook.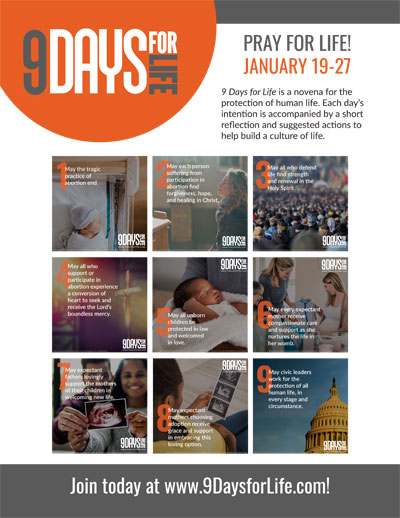 National Prayer Vigil for Life
Watch the National Prayer Vigil for Life, Jan. 19-20, at the Basilica of the National Shrine of the Immaculate Conception in Washington, D.C. This event is an all-night, pro-life, prayer vigil held on the eve of the national March for Life. You can watch online or on television. It begins on Thursday, Jan. 19 with Mass at 5 p.m. followed by the Holy Hour for Life at 7 p.m., which will be livestreamed by the basilica and broadcast on EWTN. From 8 p.m. to 8 a.m. the next morning, bishops in dioceses across the United States will be livestreaming holy hours. To see the full listing for the overnight hours, please click here. The prayer vigil concludes Friday, Jan. 20 with the closing Mass at 8 a.m., which will also be livestreamed and broadcast live.
Day of Prayer for the Legal Protection of Unborn Children
Observe the Day of Prayer for the Legal Protection of Unborn Children Monday, Jan. 23. In dioceses in the United States this day shall be observed "as a particular day of prayer for the full restoration of the legal guarantee of the right to life and of penance for violations to the dignity of the human person committed through acts of abortion." (General Instruction of the Roman Missal, no. 373) As individuals, we are called to mark this day through the penitential practices of prayer, fasting and/or giving alms. Learn more by visiting the U.S. Conference of Catholic Bishops or see resources for the day.