Bishop Taylor revives Cursillo in Arkansas
Published: June 5, 2023
During the listening phase of the Synod on Synodality in the Diocese of Little Rock, respondents shared their frustration at the lack of Catholic retreat opportunities in Arkansas. In response, Bishop Anthony B. Taylor restored the dormant Cursillo movement by naming new leadership last October.
"Cursillo provided an excellent retreat experience for many people over the course of the last few decades but was discontinued at the time of the COVID-19 pandemic," the bishop explained in his synod response in December. "Actually, the English-language Cursillos had already been suspended earlier due to lack of response. By now, there is a lot of pent-up demand ... I hope cursillistas from the past will now step forward to assist in resurrecting this wonderful spiritual opportunity for a whole new generation of Catholics."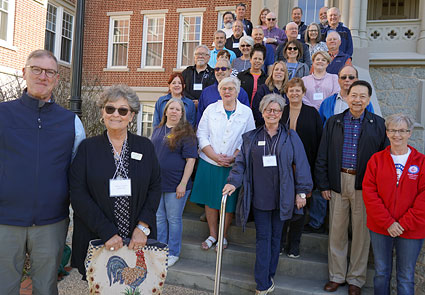 A national Cursillo team trained 26 Arkansas leaders in English at St. John Center in Little Rock April 20-23. Weekend retreats for men and women will be scheduled for later this year, said Deacon Rob Brothers, spiritual director for the movement in English. Cursillo weekends in Spanish will be held in June and July.
Deacon Rob Brothers was appointed spiritual director for English Cursillo and Deacon José Fabio Cruz was appointed spiritual director for Spanish Cursillo. Both men were ordained deacons last June at their home parish of St. Vincent de Paul Church in Rogers.
Cursillo (pronounced kur-see-yo) is a Spanish word meaning "little" or "short course." Cursillos de Cristiandad (short courses of Christianity) is an international, lay movement of the Catholic Church developed in Spain in the 1940s and spread to the United States by 1957, according to Arkansas Catholic.
The goal of Cursillo is to "teach men and women how to become effective Christian leaders in their neighborhoods, parishes, work situations and other places where people live," according to Vatican News. Cursillo "forms Christians through spiritual formation courses (cursillos), in which they are invited to build a closer relationship with Christ and to a deeper experience of Christian community. It was officially recognized by Pope St. Paul VI, who designated Cursillos as a renewal movement of the Church."
There are three stages of the movement: Pre-Cursillo (recruiting phase), Cursillo Three Day (weekend retreat) and Post-Cursillo (small group gatherings, ultreyas, school of leaders).
The retreat begins on a Thursday evening and ends on Sunday night, during which participants listen to courses (talks) presented by priests and laypeople, pray, have small group discussion and celebrate Mass together. Retreats and small groups are offered separately for men and women.

"(Cursillo) is designed to help adults learn more about their faith and to develop a closer personal relationship with Jesus Christ, making it possible for Catholics everywhere to live a Christian life in a natural way," Deacon Brothers told Arkansas Catholic.
After the weekend, cursillistas (those who attended the retreat) are divided into small groups to meet on an ongoing, weekly basis. "Ultreyas" (pronounced ul-tray-ahs) or reunions bring men and women together for larger gatherings of continuing education and may be held monthly, quarterly or annually.
In April, a national team trained 26 Arkansas Cursillo leaders in English at St. John Catholic Center in Little Rock. Weekend retreats for men and women will be scheduled early next year in English, Deacon Brothers said.
The Spanish movement, which had some leadership already in place before the relaunch, has its first Cursillo weekends scheduled this summer. They will be held June 15-18 for men and June 29-July 2 for women, both at St. John Catholic Center. Download the application and return it with deposit to the address provided.
For more information about the Cursillo program in our diocese, contact Deacon Brothers in English at (479) 306-8188 or robb@svdprogers.com, or Deacon Cruz in Spanish at (479) 636-4020.
---