Deacon Candidate — Class of 2022
José Fabio Cruz, St. Vincent de Paul Church, Rogers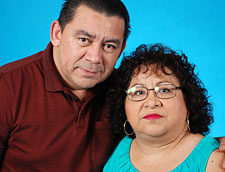 Why do you want to be a deacon?
I feel God's call in my heart to serve him as a permanent deacon in the Catholic Church, to serve on the altar, to announce God's Word, and to serve others in charity. After my personal encounter with Christ, I consider myself an active Catholic in love with Christ, and I desire to be his feet and hands here on earth.
Married To: Blanca Artiga de Cruz
Profession: Industrial Engineer (El Salvador)
Interests and Hobbies: Reading books (Catholic, personal growth, motivational, leadership, team work, etc.), watching TV, listening to music, traveling and learning about nearby towns, etc.