Watch Bishop-elect Pohlmeier ordination
Published: July 20, 2022
Bishop-elect Erik Pohlmeier will be ordained and installed the 11th bishop of the Diocese of St. Augustine in Florida at 1 p.m. (central time) Friday, July 22 at St. Joseph Church in Jacksonville, Fla. The episcopal ordination will be livestreamed on the Diocese of St. Augustine's Facebook page and YouTube channel. All are welcome to watch it live online.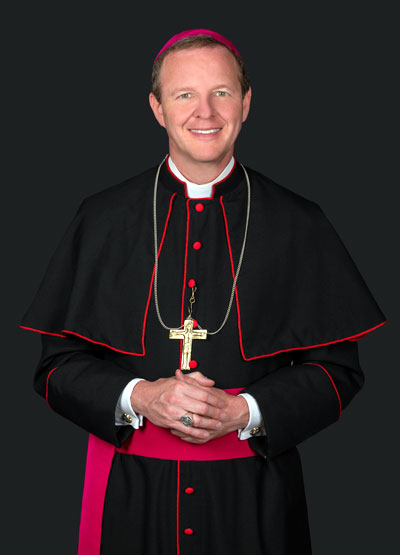 Archbishop Thomas Wenski of Miami will be the principal consecrator. Bishop Anthony B. Taylor of Little Rock and Bishop Felipe J. Estévez, retiring bishop of St. Augustine, will be co-consecrators.
Bishop-elect Pohlmeier's father, Deacon Tom Pohlmeier of Paris, and his brother, newly ordained Deacon Jason Pohlmeier of Fayetteville, will also serve at the ordination events, which include a vespers service the night before the ordination and welcoming Masses after the ordination. Visit the St. Augustine Facebook page for a complete list of events.
Also, a group of Arkansans is traveling to the ordination to celebrate with the new bishop in person. Raised in Paris, Ark., Bishop-elect Pohlmeier was ordained a priest for the Diocese of Little Rock on July 25, 1998.
For the past 24 years, he pastored parishes, held a variety of diocesan roles including directing faith formation and diaconate formation and was a national voice for natural family planning. He also served as theological consultant for Arkansas Catholic newspaper for 19 years and director of continuing education of clergy since 2019.
Arkansas Catholic sat down with him before moving to Florida to discuss his years as a priest in Arkansas. Read his reflections on leaving our state and leading faith formation.
The Vatican announced that Pope Francis appointed Father Pohlmeier the next bishop of St. Augustine on May 24. He succeeds Bishop Estévez, who has served as bishop of St. Augustine for the past 11 years. One of seven Catholic dioceses in Florida, St. Augustine has a Catholic population of more than 149,000 in 17 counties in the northeastern part of the state. This compares to the approximately 154,000 Catholics in Arkansas' 75 counties.
---
---