Rubio to be ordained to diaconate Dec. 17
Published: December 7, 2016
Bishop Anthony B. Taylor will celebrate the diaconate ordination Mass of Nelson Jesus Rubio Villalobos (Nelson Rubio) at 10 a.m. Saturday, Dec. 17 at Sacred Heart of Jesus Church in Hot Springs Village. This Diocese of Little Rock seminarian will become a transitional deacon, a major step toward priestly ordination. A reception will follow in the parish hall. All are invited to attend.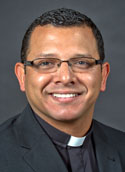 Guests are also welcome to attend a holy hour for Rubio at 5 p.m. Friday, Dec. 16 at Our Lady of Good Counsel Church in Little Rock. Prayers will be offered for him and an increase in vocations to the priesthood and religious life. Rubio, 36, a native of Venezuela, is the son of Nelson Rubio Sr. and Carmen Villalobos. He will serve his first Mass as a deacon on Sunday, Dec. 18 at the 8 and 10 a.m. Masses at Sacred Heart of Jesus Church, his adopted home parish.
In his vocation story he wrote, "My heart is full of gratitude to God. I feel so blessed with this calling to be a priest here in Arkansas. There are so many things I see that God is giving me with generosity and hands full ... As it says in Matthew 10:8, 'Freely you have received, freely you are to give.' My promise is to completely give myself to others, to spend my life serving you, for you freely gave me your love in return for nothing." Read his vocation story.
Rubio is currently studying at Sacred Heart School of Theology in Hales Corners, Wisconsin, in preparation for ordination to the priesthood in 2017. If you wish to contact him to congratulate him or assure him of your prayers, please e-mail him. For more information, contact the Vocations and Seminarians Office at (501) 664-0340.