One Church partner is St. Bartholomew
Published: September 25, 2020
Click on the button above to donate online to the One Church: Unite Arkansas in Faith and Mission initiative that supports a small mission that needs a leg up to become a thriving community. For more information, contact Rebecca Cargile at Catholic Charities of Arkansas at (501) 664-0340.
The kickoff for the 2020-2021 One Church: Unite Arkansas in Faith and Mission campaign is Sept. 26-27. This year's partner is St. Bartholomew Church in Little Rock, a predominantly African-American parish started in 1909, that is in need of a new parish life center to house its faith formation activities and serve the neighborhood children through after-school programs.
Parishioners have been meeting in the parish's old high school building, which closed in 1964. Major repairs are needed to fix the former school's cinder-block walls and air conditioning. There is mold, cracks in the walls and the air conditioning is old, noisy and does not work properly.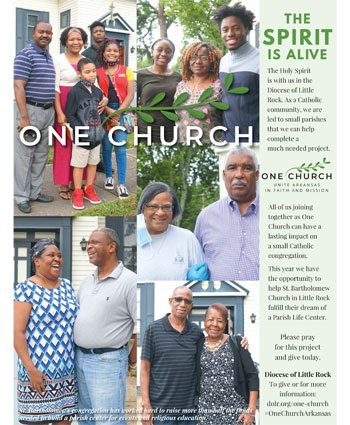 Rooms are small so larger events are held on an empty lot with a rented tent or at a rented facility at another church. Parishioners have raised or pledged $620,000 toward constructing a new 5,040-square-foot parish life center that would have rooms for faith formation programs for 150 people as well as three offices, a kitchen and conference room. To learn more, read Arkansas Catholic or the FAQ.
In a letter launching this year's program, Bishop Anthony B. Taylor praised Catholics in the Arkansas for their support of One Church. "The level of concern and generosity among you is extraordinary. As brothers and sisters in Christ you embraced our Catholic communities in Warren and Hamburg," he wrote.
"I am asking each parish, beginning this month, to consider how you can support St. Bartholomew in building a new parish life center. As I ask this, I am keenly aware, as you are, of the difficulties of living with the COVID pandemic. With God's grace, we will manage until we are free from its grip."
The One Church: Unite Arkansas in Faith and Mission initiative began in 2018 to help a mission church in the Diocese of Little Rock for a 12-month period that needs a one-time boost to become a thriving community. St. Luke Church in Warren was the beneficiary from 2018-2019, receiving $163,147 toward the cost of renovating a building to become its new church. Holy Spirit Church in Hamburg was the recipient from 2019-2020, receiving $67,950 to reduce its mortgage.
Donations from One Church can help St. Bartholomew raise the remaining funds needed to build its parish life center. More ideas can be found here. Find additional resources in our toolkit. Families are invited to donate now by making an online gift or mailing a check to: Catholic Charities of Arkansas, 2500 N. Tyler St., Little Rock, AR 72207. Checks should be made payable to: "Diocese of Little Rock-One Church" with the notation "St. Bartholomew Little Rock."