One Church to help local parishes in need
Published: October 11, 2018
Click on the button above to donate online to the One Church: Unite Arkansas in Faith and Mission initiative that supports a rural mission that needs a leg up to become a thriving community.
The Diocese of Little Rock recently launched One Church: Unite Arkansas in Faith and Mission, a new program that invites all parishes in Arkansas to partner with a struggling, neighboring rural parish and help it become a thriving community. Catholic Charities of Arkansas will oversee this initiative, which will run from September to August each year.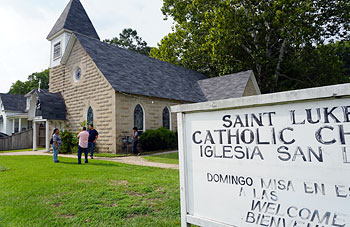 This year's partner is St. Luke Church in Warren, a growing congregation in southeast Arkansas whose decaying, older building can no longer accommodate them. The sanctuary is too small for their one Sunday night Mass so many people must stand outside or in the sacristy. Read Arkansas Catholic or watch the video below to learn more about the needs in Warren. All money given to One Church will go to the Warren parish for the next 12 months.
"I hope this develops a tradition of in-state mission service among all of our parishes," said Patrick Gallaher, executive director of Catholic Charities of Arkansas. "Our parishes can help each other."
While some parishes might hold a second collection for One Church, others might donate all their proceeds from a fundraiser, such as a bake sale or car wash, to the Warren church, he explained to Arkansas Catholic.
Gallaher, St. Luke parishioners and the current and former pastors can also be invited to speak at Masses or to parish groups about St. Luke Church and its needs.
"My goal is to reach every Catholic in the state and have every Catholic in the state make some contribution. It could be $1 or $2 or an hour of labor. If we get every parish involved with small contributions, there will be a tremendous impact that will benefit St. Luke's in Warren."
The diocese's council of priests, the Presbyteral Council, created the One Church program last year and chose St. Luke to be the first partner. For the 2019-2020 year, the council has already selected Holy Spirit Church in Hamburg.
---