May crowning honors Mary's royal office
Published: April 26, 2023
"Hail, holy Queen enthroned above, oh Maria. Hail, mother of mercy and of love, oh Maria. Triumph all ye cherubim, Sing with us ye seraphim. Heaven and earth resound the hymn. Salve, Salve, Salve Regina." — Hail Holy Queen Enthroned Above, traditional Marian hymn
In popular Catholic tradition, Mary's coronation in heaven is often reenacted during the month of Mary in May crownings. Typically children, often those who recently received their first holy Communion, carry roses and place them at the feet of a statue of Mary while placing a crown of roses on top of Mary's head. There are also numerous songs, poetry, artworks and prayers depicting Mary's queenship.
Many Catholic parishes and schools in Arkansas observe this tradition in the first week of May. Visit our calendar or contact a school or parish directly to see if this event is being held in your area. There are also online resources suggesting how to have a May crowning at church or home with children. Check out these offerings from the Archdiocese of Newark, Catholic Icing, Holy Heroes or the Catholic Company.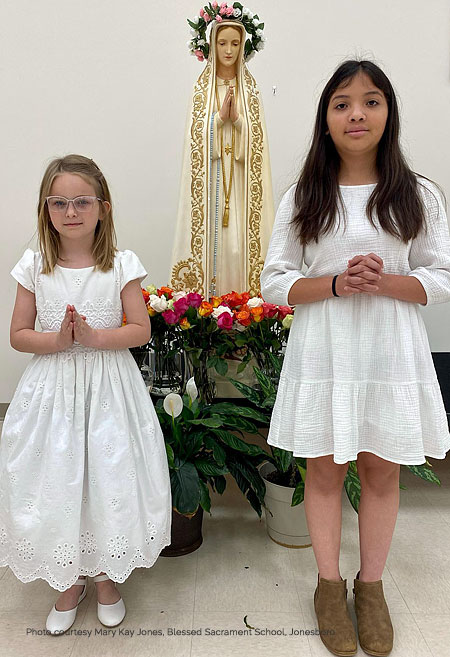 The memorial of the Queenship of the Blessed Virgin Mary is celebrated Aug. 22, yet parishes have long celebrated this event in May, which is traditionally the month dedicated to Mary. The reason might be because this feast day wasn't established until 1954 but the custom of crowning Mary goes back to the 12th century and become an established tradition by the 14th century, according to Father Johann Roten, SM, at the Marian Library at the University of Dayton, Ohio.
"The custom of crowning Marian images with wreaths is much older than the well-known May crownings," he explained. "They are related to bridal wreaths and have their origin in medieval courtly love rituals. A wreath of red (mother) and white (virgin) roses was put on Mary's head and amounted to a declaration of love. The wreath of roses is one of the historical roots of our rosary. Over time, the wreath of flowers transmuted and became a wreath of prayers. The wreath of flowers with which Mary is crowned in May highlights a special connection with spring, new life and Mary's resplendent beauty."
Sister M. Jean Frisk, SSM, also with the Marian Library, explained that venerating images of Jesus, Mary and the saints has been a permitted custom since the Council of Nicea in 787. This is an ancient practice in Christian churches in both the East and West. By the 16th century, crowning images of Mary became a widespread practice among the faithful. By the 19th century a rite was written for crowning images of Mary. The "Order of Crowning an Image of the Blessed Virgin Mary" was updated in 1987 by the U.S. Conference of Catholic Bishops, and offers three ways this custom may take place: within Mass; within Evening Prayer (Liturgy of the Hours); or within a celebration of the Word of God. A modified version of the third form is the one often used in parishes and schools.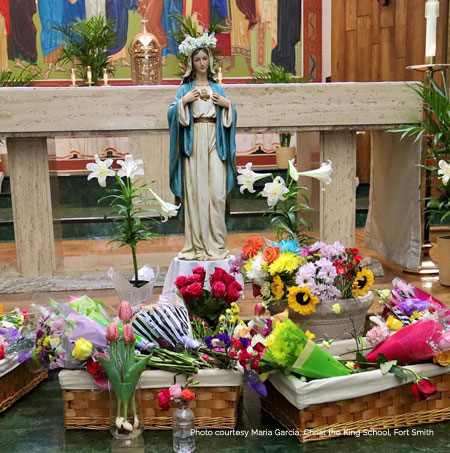 Some Christians are uncomfortable with such devotion to Mary. Bishop Erik Pohlmeier explained the reason when he was theological consultant for the Diocese of Little Rock in this 2006 column in in Arkansas Catholic.
"There is probably no part of Catholic life so often misunderstood. Many claim devotion to Mary amounts to nothing more than worship that should be given to God alone. Of course, that is not the case but many Catholics are at a loss when it comes to explaining why." Learn the difference between worship and honor in the Catholic Church.
In his encyclical, "Ad Caeli Reginam" ("To the Queen of Heaven"), Pope Pius XII details the long held tradition of recognizing Mary as queen. "So with complete justice St. John Damascene could write: 'When she became mother of the Creator, she truly became queen of every creature.' Likewise, it can be said that the heavenly voice of the Archangel Gabriel was the first to proclaim Mary's royal office."
Yet he cautioned the faithful from straying into error. "Beware of unfounded opinions and exaggerated expressions, which go beyond the truth." Mary was chosen; an honor given to her "because of the infinite goodness that is God." Mary was the first to teach us this. "My soul proclaims the greatness of the Lord; my spirit rejoices in God my savior. For he has looked upon his handmaid's lowliness; behold, from now on will all ages call me blessed. The Mighty One has done great things for me, and holy is his name." (Luke 1: 46-49)
"In the end we should realize the great gift we have as Catholics. Honoring Mary seems natural to us. We honor our mother in heaven as easily as we honor our mothers on earth," Bishop Pohlmeier said. "From all mothers we learn a great deal. From Mary we learn the greatest thing, how to love God himself." As we honor our earthly mothers in May, let's honor our heavenly mother as well. "During the month of May we pray with our mother, that we may love Jesus as she does."
---
---